The Muscle Help Foundation (MHF) is once again delighted to be partnering with London-based music academy The Rhythm Studio Foundation (Reg Charity No. 1096716) to deliver another very special musical experience this summer! Apply today for Music 2.0 'Seeing Silly Sounds'! 
Applications are now open for our Music 2.0 Virtual Muscle Dream Programme. Building on our inaugural Music 1.0 intervention, we're lining up a noisy instrument, beatboxing and singing extravaganza that's not only interactive but by participating, your confidence will be boosted, your self-esteem will improve, and you'll meet other like-minded people with an interest in music. 
NOMINATIONS ARE OPEN – APPLY TODAY 
Flex your creative music muscles, grab a stick, turn a pot upside down and let's rehearse those beatboxing fun-drum-mentals! Prepare to be inspired, discover your inner musical talents, do something that's different and seriously cool.
SEEING SILLY SOUNDS 
"The Rhythm Studio is an amazing place where children fall in love with learning music. The teachers make it fun and inspiring, and very cool" (Gwyneth Paltrow, Patron) 
"The work that The Rhythm Studio Foundation does helping young musicians is fantastic and inspiring, and I'm proud to be associated with it" (Chris Martin, Patron) 
TWO GROUPS 
MHF will be running two groups where you'll learn about music composition, how music can lift spirits, bringing much needed joy and happiness into our lives. 
For our younger Muscle Warrior hopefuls (8-12yrs) 
Focusing on instruments, silly sounds and tongue twisters 
For our older Muscle Warriors (13-28yrs) 
For those looking to improve their beatboxing skills 
Plus you'll create a special interlude for the charity's '657 Anthem' 
Taking part in Music 2.0 will help to support and encourage a wide range of musical and social skills such as: 
MUSICAL OUTCOMES
Improving the understanding of key musical concepts while arranging compositions, including song structure, tempo, rhythm, pitch, timbre, dynamics, mood and textures.
Improving vocal, instrumental or technical skills while learning rock and pop songs, including how to combine instruments and contribute creatively to an ensemble performance, listen and work as a team when working in group situation and practice, memorise individual parts and rehearse and perform as a group.
SOCIAL OUTCOMES
Building confidence, working as a team and learning to collaborate. Participants will be challenged to be creative and experiment with their learning as well as being patient and focusing when required.
Building resilience through practice and perseverance. 
>>APPLICATIONS DEADLINE  = MON 20TH SEPT<<
Know someone with Muscular Dystrophy (MD) aged between 8 & 28yrs old? Please share this so that as many children and young people with MD across the UK hear about this opportunity and can be nominated to participate in our .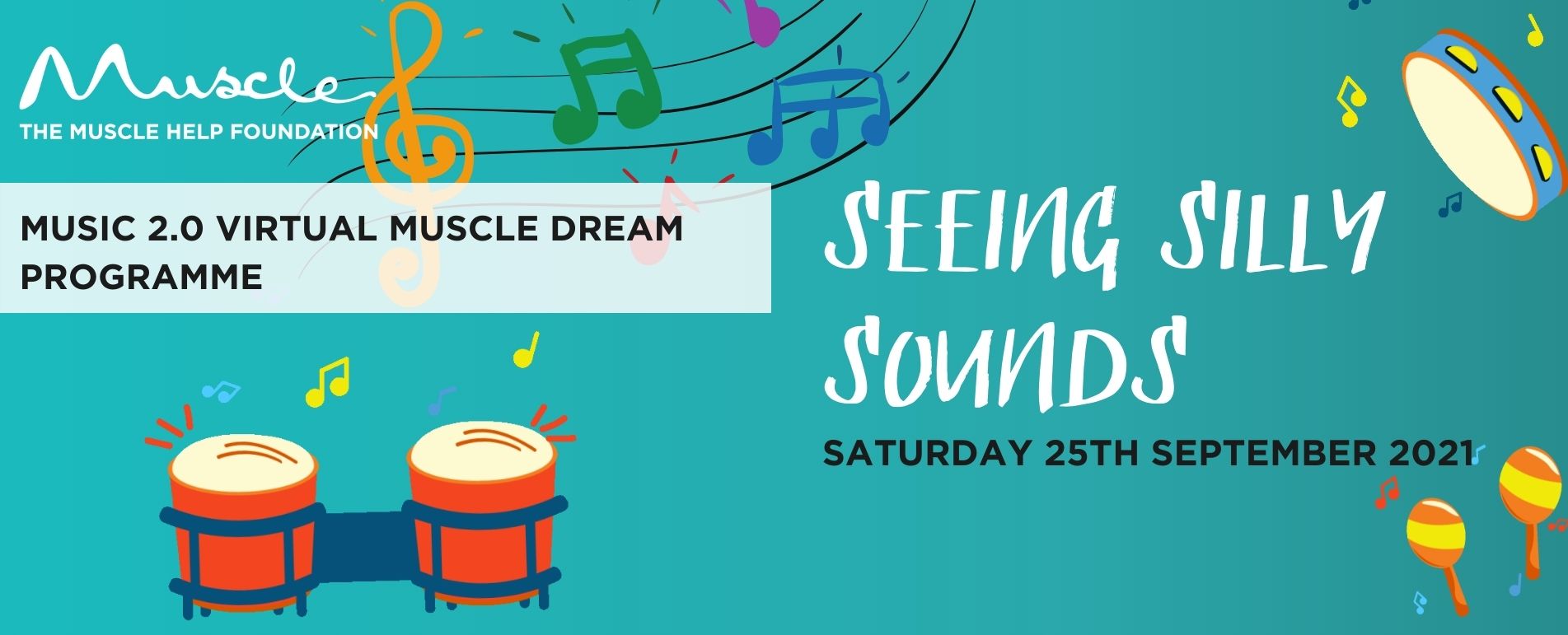 To participate in 'SEEING SILLY SOUNDS' - MUSIC 2.0', and raise the proverbial musical roof virtually, check out what you'll need to do and then complete the application below.   
Tell us

your favourite silly song; and give our Spotify playlist a spin!

 

Download our

instruction guide

to

make your own

instruments 

 

Post

your

most memorable momen

t from our Music 2.0 programme

Family participation is encouraged to keep beneficiaries engaged throughout
WHAT'S INCLUDED? 
WHAT'S INCLUDED?  
Participating families will receive:  
Delivered

via

Zoom

& supported by

The Rhythm Studio Foundation

, we've come up with an immersive

90mins

therapeutic experience to

lift spirits

, boost confidence & improve self-esteem.

 

Musical activities have been

scientifically proven

to improve our health, happiness and overall well-being. Team activities with other Muscle Warriors help build lasting connections and friendships. 

 

Our

wellness activities

will we promise

warm your vocal cords, your hearts

&

calm your minds

.  

 
>>APPLICATIONS DEADLINE EXTENDED = MON 20TH SEPT<<
KEY CRITERIA
♦ Minimum age = 8yrs, maximum age = 28yrs
♦ We will inform successful nominees by email within 2 days of the applications deadline date
♦ The charity's decision is final
MUSCULAR DYSTROPHY
As with all Muscle Dreams, our beneficiaries are defined as children & young people in the UK with Muscular Dystrophy (MD) & allied neuromuscular conditions