Molly Picture Moves McGrath
Posted on

January 23rd, 2007

Three special works of art were on display last month at the Novas Contemporary Urban Centre (formerly Novas Gallery) in London, part of an exhibition called ~ Perspectives on muscle disease: life in pictures

Michael McGrath, the CEO and co-founder of The Muscular Help Foundation, himself a sufferer of muscular dystrophy, was invited by the Muscular Dystrophy Campaign to a special event on Wednesday 23rd January 2007 that featured one of Britain's best portrait painters (Jonathan Yeo) but also included projects by Lesley McIntyre and Jacqueline Donnachie.

Lesley McIntyre exhibited a striking photographic biography called 'The Time of Her Life' (published by Jonathan Cape 2004, ISBN 0-224-07254-4) of her beautiful daughter Molly (pictured below) born at St Thomas' Hospital in London on 19 October 1984. Molly lived an inspiring life until she was 14 years old. She passed away in February 1999 from an undiagnosed form of muscle disease.

Spring Cottage, Pembrokeshire, Wales, 1990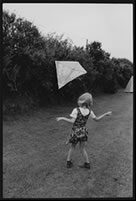 "There were some extremely poignant photographs that were deeply moving to me personally and I remember saying to my wife that one image in particular stood out – it showed Molly flying a small kite, something I recall doing as a small child. There's something enormously powerful and intense about a photograph that awakens childhood memories – through her mothers eye, Molly's physical realities reminded me just how human and frail we all are. In the one breath I felt terribly sad that Molly's life was so short, but in the next moved to a positive place in time where my muscles worked as they had been designed to do," said inspirational speaker McGrath.
Jacqueline Donnachie, one of Scotland's most respected contemporary artists (for whom myotonic dystrophy has affected several members of her immediate family), has forged an international reputation for a socially-engaged art practice, with a special interest in healthcare and bio-medical research
A private donation received by the Muscular Dystrophy Campaign (MDC) enabled acclaimed portrait artist Jonathan Yeo to paint three wonderfully illustrated works of art that captured three of this charity's longest serving supporters, namely HRH Prince Philip Duke of Edinburgh, the Patron since 1966 and two distinguished Honorary Life President's in Lord Richard Attenborough who began supporting MDC in 1962 and Lord John Walton who was a founding member of the charity in 1959.
The evening also provided an opportunity for Michael McGrath to personally meet Academy Awards and BAFTA winner, actor, director and film producer Richard 'Dickie' Attenborough (pictured below, photograph courtesy of Lisa Payne Photography). "I must confess I felt somewhat under-dressed against his immaculately pressed dark suit, starched collar and sharp tie," said McGrath.
Michael McGrath meets Richard Attenborough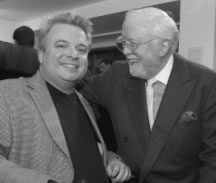 "For many years, I've wanted to meet the man who played one of the lead characters by the name of Brody in one of my favourite movies, a classic 1958 war film called Sea of Sand set in the North African desert. It's about a group of officers who at first don't see eye to eye and where unpredictable clashes of class, rank and experience make getting on with the job at hand really challenging; as in real life, they learn to listen to each other, they learn to inspire each other, playing to their strengths, yet recognising their weaknesses. They eventually work together for their common goal and succeed on their mission," added McGrath.
"He is a remarkable man with a warm and sincere disposition. He spoke with enormous compassion, sensitivity and quite obviously, a very real and evident understanding about why it is we must never give up in the fight against muscle wasting diseases like muscular dystrophy," commented McGrath.
He goes on to say "The world needs an army of Dickie Attenborough's, an incredibly humble man who has devoted more than 45 years of his life raising awareness and fighting for this cause. As someone living with muscular dystrophy, I shall never forget his measured reminder to everyone gathered that evening in the Novas Gallery that we should never ever forget the countless mothers and fathers, husbands and wives, brothers and sisters, uncles, aunts and even grandparents who in each and every waking day, unconditionally give of themselves in caring for, supporting and helping those in the family whose lives are being destroyed by a disease that remains the single biggest genetic killer of children on our planet today … whether that be turning someone four of five times in a night, feeding someone unable to feed themselves or even helping someone to relax and breathe at night time so they can simply sleep more easily."
If you would like to learn more about The Muscular Help Foundation, want to get involved or would like to volunteer your time or skills, please contact us
(Above), Lisa Payne Photographer logo
Lisa Payne is an award winning reportage photographer working from London; she specializes in photographing people in their environments. Her work has been published in the Observer, Level and Marie Claire and her clients include Marks & Spencer, Dorling Kindersley, British Heart Foundation, Insight Guides, NTL, Howies, plus long running assignments for the NHS. She also has had advertising work published for Abbott Mead Vickers, D'Arcy, Bamber Forsythe and Mac & Co. Lisa is currently working with Damien Hirst on his forthcoming 4000 page book titled Pharmacist.
https://www.lisapaynephotography.co.uk/
Contact:
Lydia Drukarz, Director
Wavelength Public Relations
M. 07977 454180
E. lydia@wavelengthpr.com
Follow Wavelength PR on Twitter
http://twitter.com/WavelengthPR