MHF WINS SOCIAL ENTERPRISE OF THE YEAR
Posted on

May 19th, 2013
The Muscle Help Foundation (MHF) was crowned Social Enterprise of the Year at the Inspiring Hertfordshire 2013 Awards.
During the Hertfordshire Chamber of Commerce & Industry's glittering ceremony at the Porsche Centre Hatfield, MHF 's co-founder and Chief Executive Michael McGrath collected the prize for the charity's work at the London 2012 Paralympics.
The Games Inspired Muscle Dreams programme saw MHF take 75 children and young people with the muscle wasting disease Muscular Dystrophy to the Paralympics, fulfilling their passion to be involved in the spirit of London 2012.
MHF was also shortlisted for Business of the Year for its work generally delivering Muscle Dreams, once in a lifetime experiences for young people around the country with all forms of Muscular Dystrophy.
Michael said he was "extremely proud" to win the prize, which he picked up in front of 300 business leaders from around Hertfordshire this week.
The charity's table of 10 attendees also included beneficiaries Gianluca Luisi and Jordan Williams, both of whom have Duchenne Muscular Dystrophy, the most severe form of the disease.
"At the heart of our work is a burning ambition to provide hope and change many more lives in the future – this award will help raise awareness of our charity, not just in Hertfordshire, but further afield," Michael said.
"I hope it will provide a platform to engage the hearts and minds of businesses that see the benefits of charity partnerships, something I am looking to develop much more as part of our strategic plan."
He added: "Huge thanks to all those who have and continue to support, encourage, volunteer and donate valuable time towards the work of our family charity."
MHF's work in Hertfordshire continues with Challenge 200, which will task 10 local businesses with turning a £200 loan from the charity into funds for Muscle Dreams.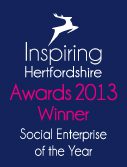 Contact:
Lydia Drukarz, Director
Wavelength Public Relations
M. 07977 454180
E. lydia@wavelengthpr.com
Follow Wavelength PR on Twitter
http://twitter.com/WavelengthPR