MHF urges supporters to donate printed Christmas card costs online via DontSendMeACard
Posted on

November 14th, 2016

Factoid: it's estimated that well over a billion cards will be burnt or dumped after the Christmas season. As a result, multi-award winning family charity The Muscle Help Foundation (MHF) is once again partnering this Christmas with Exeter-based DontSendMeACard.com offering users the opportunity to select from a range of specially branded charity e-cards instead of spending money on buying printed cards.
SEND A HEART-WARMING CHRISTMAS E-CARD
SIMPLY CLICK THE IMAGE BELOW
THANK YOU!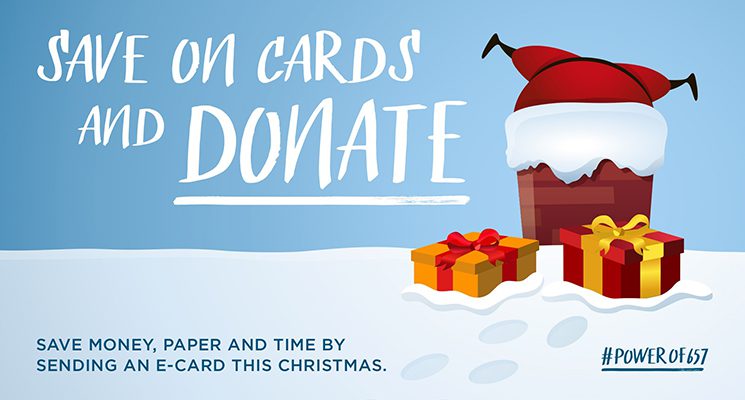 MHF's CEO Michael McGrath said:
"Our designers Lantern have created some light-hearted e-cards that not only celebrate that magical Christmas spirit but also tie in with our #powerof657 campaign. The visuals are vibrant, festive and fun!
Once the user has made his/her selection HERE, they can then donate the amount that would have been budgeted for a printed card in support of our charity.
It's a really easy feel-good way of supporting The Muscle Help Foundation this Christmas. The e-card recipient will also see that the sender has donated to our charity, and is then invited to do the same. As most of us are looking to cut down on Christmas waste, this seasonal fundraiser is a win-win!
Donations will go towards our Muscle Dream experiences for children and young people with muscular dystrophy. I believe that working again with DontSendMeACard.com offers an attractive alternative to the £1.6bn spent annually on greeting cards in the UK ~ merry Christmas one and all!"
DID YOU KNOW…
THE AVERAGE HEIGHT OF A CHRISTMAS TREE
IS BETWEEN 6 AND 7 FT?
AS WE SAY … THAT'S THE #POWEROF657
BUY YOUR E-CARDS TODAY BY CLICKING THE IMAGE BELOW
THANK YOU!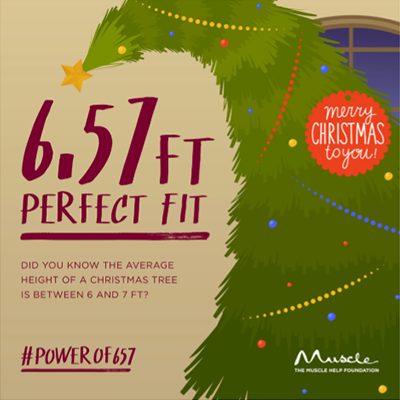 Alex Furness of DontSendMeACard.com said:
"DontSendMeACard is able to typically give 110% of the original amount donated to the charity after processing fees and Gift Aid. Our ultimate objective is for our users to create a follow-on effect of e-cards and donations. By one person deciding that this is a good idea, it results in their network seeing that they donated and being invited to do the same."
NOTE: According to the Greetings Card Association, £1.6 billion was spent on greetings cards last year, with the Christmas boxed card category worth £200 million, and sales of single Christmas cards valued at £174.6 million in 2014.
MHF is a multi-award winning, small niche family charity delivering life-changing, highly personalised experiences called 'Muscle Dreams' for children, young people and young adults in the UK with Muscular Dystrophy (MD) and allied neuromuscular conditions.
The charity has one singular aim to deliver 657 Muscle Dreams, that's one life-changing experience for each muscle in the human body. To date and now including Safina's Muscle Dream, 209 have been fulfilled for some incredibly deserving beneficiaries; that's the #powerof657.
Contact:
Lydia Drukarz, Director
Wavelength Public Relations
M. 07977 454180
E. lydia@wavelengthpr.com
Follow Wavelength PR on Twitter
http://twitter.com/WavelengthPR