MHF makes key appointment with ADPR Ltd
Posted on

June 30th, 2010
The Muscle Help Foundation has appointed PR consultancy ADPR Ltd (Active & Dynamic Public Relations) to help raise the charity's profile. Established in 2005, the charity sees the appointment as a key step, using PR to help drive its individual donor and corporate fundraising streams.
ADPR has been charged with raising awareness of the charity and its activities including one of its more quirky fundraisers taking place on Saturday 4th December called the GRIM Challenge, a gruelling yet hugely fun off-road eight mile run that takes place near Aldershot (where the legendary hovercraft scene was filmed in the James Bond movie Die Another Day).
Other initiatives that ADPR will focus on include: an invitation-only Corporate Reception at the Royal Automobile Club in Pall Mall, London on Tuesday 16th November; a group of 11 Mountain Muscle Warriors™ aiming to fund 11 Muscle Dreams™ by climbing 1 Mountain (Mt Kilimanjaro) in September 2011; and participation by one of the charity's Trustees in the 2011 Marathon des Sables (known worldwide as the toughest foot race on earth), involving a six day marathon across the Sahara desert in Morocco.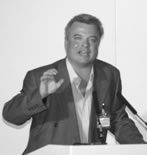 ADPR will also publicise Michael McGrath, co-founder and CEO of The Muscle Help Foundation. McGrath is an experienced and inspiring motivational speaker, who specialises particularly in the corporate, education and public sectors. He was diagnosed with the genetic muscle-wasting disease Muscular Dystrophy when he was 18. He is the only disabled person in the world to have successfully conquered both the North and South Poles.
McGrath is enthusiastic about the appointment and the prospects it brings for the charity. "As a dynamic growing charity in the muscular dystrophy space with ambitious plans, this is a key appointment. The Muscle Help Foundation was looking for a passionate PR partner that could grow with us, an organisation with a robust track record, solid experience and a personable approach.
Key to our decision-making process was the need to identify a PR business with a genuine desire to understand our core requirements, our deliverables and our future aspirations. Moreover, we wanted to appoint a progressive partner that has the capability and depth of PR expertise to deliver results based on a highly focused PR strategy. I believe that we have found this in ADPR."
Contact:
Lydia Drukarz, Director
Wavelength Public Relations
M. 07977 454180
E. lydia@wavelengthpr.com
Follow Wavelength PR on Twitter
http://twitter.com/WavelengthPR