McGrath lends his support at House of Lords
Posted on

July 9th, 2007

The CEO of The Muscular Help Foundation, Michael McGrath, recently attended a House of Lords reception in the magnificent River Room of the Lord Chancellor's residence to raise awareness of muscle disease ~ he was invited by the Muscular Dystrophy Campaign (MDC) who are calling on the new Government to pay much more attention to young adults with disabilities, many of whom face difficulties when transferring from children's to adult's services – known as the 'transition' phase.

Commenting on the event, motivational speaker Michael McGrath said: "Influencing the political agenda via a collective concerted effort with those in government is vital; I know only too well what 'transition' has meant for me since being diagnosed over twenty years ago with muscular dystrophy."

Left to Right: Michael McGrath, Abby Mardon (MDC Director of Fundraising and Communication), Philip Butcher (MDC CEO) and Andrew McKenzie (The Arts Council)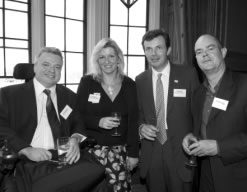 "The issue of transition is terribly important; over for example the past 6 months, I've met and spoken with young adults with muscular dystrophy and also parents who have teenage sons for whom time is precious and for whom achieving a quality of life is an absolute fundamental right.
Government must understand what 'transition planning' means in preparing young people for further education, training and employment as well as knowing how they can contribute to community life, thus becoming independent and autonomous. Having the ability to inspire action and influence the political will and thinking of those in positions of power is a responsibility we must all undertake."
Ivan Lewis MP, Minister for Health, was joined by MPs and supporters of MDC; Baroness Thomas of Winchester who has a form of limb girdle muscular dystrophy (like Michael McGrath) hosted the event and generously offered the opportunity for MDC's members, fundraisers, researchers and donors to network with MPs and discuss the work and current campaigns of the Muscular Dystrophy Campaign.
Guests included:
Dave Anderson MP & Chair of the All Party Parliamentary Group on Muscular Dystrophy
The Rt Hon. Baroness Hayman & The Lord Speaker of the House of Lords
Philip Butcher, Chief Executive of the Muscular Dystrophy Campaign, said: "I'm delighted that so many MPs were able to join us in recognising the contribution made by many people from all walks of life to the fight against muscle disease. I hope that we can now work together in ensuring that the needs of people living with muscle disease are at the top of the health and social care agenda."
Baroness Thomas said: "The nature and quality of health service provision too often fails teenagers with disabilities. The standard of services for young adults with conditions such as muscular dystrophy is not as well developed as those in paediatric clinics. It is essential that the Department of Health and local authorities work to bridge this divide and improve joint working between children's and adult's services."
MPs from across the parties have tabled an Early Day Motion in the House of Commons urging the new Government to consider establishing a network of health and social care professionals with an expertise in transition to ensure that all young adults with neuromuscular conditions receive appropriate care, support and information tailored to this crucial stage in their lives.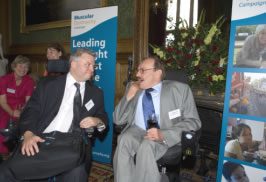 Sir Bert Massie, Chair of the Disability Rights Commission (pictured below with Michael McGrath) was guest speaker at the event.
Note: The above news item includes excerpts taken from MDC's official press release, kindly provided by MDC's National Press Office
For further information, contact:
Alison Duguid at press@muscular-dystrophy.org
About The Muscular Dystrophy Campaign (MDC)
MDC is the only UK charity that focuses on all muscular dystrophies and allied disorders. It has pioneered the search for treatments and cures for over 45 years and provides practical, medical and emotional support to people affected by the conditions.
Muscular Dystrophy Campaign
Registered Charity No. 205395
http://www.muscular-dystrophy.org
Contact:
Lydia Drukarz, Director
Wavelength Public Relations
M. 07977 454180
E. lydia@wavelengthpr.com
Follow Wavelength PR on Twitter
http://twitter.com/WavelengthPR