Lorraine Kelly becomes first Patron of MHF
Posted on

October 13th, 2008

Television presenter Lorraine Kelly has become the first Patron of The Muscular Help Foundation, a small Hertfordshire-based charity that delivers Muscle Dreams for children with the devastating muscle wasting disease muscular dystrophy.
Lorraine was unveiled as the new figurehead of the charity at a stylish James Bond-themed auction attended by over 100 invited guests at London's prestigious Royal Automobile Club in Pall Mall on Tuesday 14th October 2008.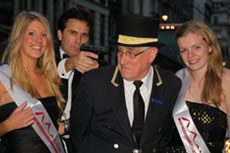 The glitzy auction raised almost £12,000 for Muscle Dreams, set up by The Muscular Help Foundation to provide amazing and unforgettable experiences to children and young people in the UK afflicted by muscular dystrophy.
With the recent high octane adventures of the 22nd installment in the James Bond movie franchise hitting the big screens, the auction with over 50 lots was conducted with an air of sophistication by Pierce Brosnan's film stunt double and auctioneer Douglas James (pictured below), ably assisted by a bevy of Bond beauties.
Speaking at the auction Lorraine said: "I'm absolutely delighted and honoured to accept your invitation to become The Muscular Help Foundation's first official Patron. Muscular dystrophy remains the single biggest genetic killer of children in our world today. Here in the UK alone there are about 60,000 people who have to fight each and every day according to how the disease affects them. It robs sufferers of their mobility, independence and finally for those with the most severe type, predominantly children, their lives.
None of us must ever forget those parents and people who live their lives for their sons, their daughters, their partners and who in each and every waking day, unconditionally give of themselves in caring for, supporting and helping those in the family whose lives are slowly being destroyed by this wretched disease. Whether that be turning someone four of five times in a night, feeding a child unable to feed themselves, helping someone into a hoist so they can enjoy the warmth of a bath or simply helping a person to relax and breathe more easily at night time so they can sleep more easily. These are the reasons why we must never give up in the fight against muscular dystrophy."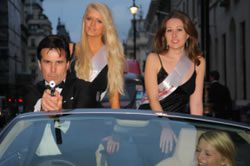 The CEO of The Muscular Help Foundation and the driving force behind Muscle Dreams is Michael McGrath (pictured left), who himself has been confined to a wheelchair by muscular dystrophy but nonetheless works tirelessly to raise awareness of the condition and funds for his fellow sufferers. Michael, a well-known motivational speaker, is an inspiration to thousands of others around the world with this most cruel and destructive disease.
In April 2002, despite his debilitating condition, Michael reached the North Pole – a feat he repeated two years later in reaching the South Pole where he became the only disabled person in the world to have reached both Poles. Michael's feats earned him a mention in the Queen's 2004 Christmas Day television broadcast to the nation from Buckingham Palace in recognition of his contribution to national life. This has subsequently brought further recognition for the charity that he co-founded for fellow sufferers less fortunate than himself.
Lorraine Kelly said: "I first got to hear about Michael when he was planning to go to Antarctica towards the back-end of 2003. Looking back on that expedition is particularly poignant because in the years since Michael's muscles have deteriorated further, he is now no longer able to walk. In realising his own unique Muscle Dream – a dream that saw him become the only disabled person in the world to have reached both the North and South Poles, Michael is I know an inspiration to many people.
Few people know that over the past year or so Michael's condition has worsened still further and he has now lost his ability to do certain simple things that most if not all of us take for granted. This degeneration comes as a direct result of muscular dystrophy and I want more people to hear and learn about what this condition is, what it does and how we can help those with it the disease."
Professional photographer Steve Carter of Kinetic Event Photography in association with PhotoBox (Europe's leading online digital photo service) created a photographic gallery containing 262 photos of The Muscular Help Foundation's 2nd Annual London Charity Fundraiser.
Contact:
Lydia Drukarz, Director
Wavelength Public Relations
M. 07977 454180
E. lydia@wavelengthpr.com
Follow Wavelength PR on Twitter
http://twitter.com/WavelengthPR