Inspired McGrath meets stars of Darius Goes West
Posted on

June 2nd, 2007

The UK film premiere of 'Darius Goes West: The Roll of his Life' was screened to London audiences during the first week of June 2007 as part of the inaugural Declaration of Independence Film Festival which shows the very best in new independent cinema from the USA and Canada.

Michael McGrath, the only disabled person in the world to have reached both North and South Poles and the Chief Executive of The Muscular Help Foundation attended the first screening of this multi-award winning documentary and met a number of the films stars including its director Logan Smalley (pictured below). The film tells the story of 15 year old Darius Weems who was born with Duchenne Muscular Dystrophy [DMD]. In 1999, he watched his older brother, Mario, pass away from the same disease at age 19 years. Soon after, Darius lost the use of his own leg muscles and now uses a wheelchair to get around.
"This is an incredibly inspiring film showing the determined quest of Darius and his friends to convince MTV's hit show, "Pimp My Ride," to get his wheelchair customized. It engages at a number of different levels but most of all, it's a real story, about real people and real issues", said Michael McGrath, an established motivational speaker on the international speaking circuit and himself a sufferer of muscular dystrophy.
McGrath adds, "What runs through the heart of this film is an inner strength and a spirit that's infectious … I call it the Darius effect! I now 'know about it' … Darius is an extraordinary person for whom time is running out. Time is so incredibly precious especially for sufferers around the world who have DMD; this film will I know help promote even more awareness about muscular dystrophy, the single biggest genetic child killer of children on the planet".
Darius Weems (in front) with Logan Smalley 'Darius Goes West' film director Logan Smalley
Darius Goes West: The Roll of His Life
2007-US-Drama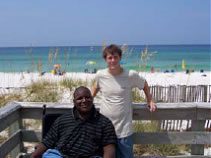 PLOT DESCRIPTION
The heart-rending documentary Darius Goes West: The Roll of His Life opens with the assertion that 15-year-old Darius Weems, a wheelchair-bound, African American young man stricken with Duchenne Muscular Dystrophy, has never left Georgian soil. To rectify this (and give Darius an experience he will never forget), 11 of his counselor friends from a grassroots organization called Project Reach pile into a handicap-accessible RV with Darius and hit the road, embarking on a cross-country trip from Athens, Georgia to Southern California, where they hope to convince the MTV network's Pimp My Ride series to customize Darius's wheelchair.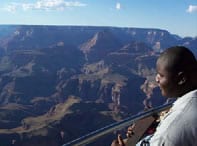 The journey (which includes stops at such locales as The Grand Canyon; Windsor Springs, Colorado; and Las Vegas) draws the men closer together and gives them a renewed appreciation for life. Along the way, they encounter unexpected help and friendship from such celebrities as William H. Macy, Felicity Huffman and Michael Jackson, and raise much-needed public awareness of muscular dystrophy. Logan Smalley directs. ~ Nathan Southern, All Movie Guide [AMG]
Plot Description Source
The New York Times (Wed June 20th, 2007)
All Media Guide, LLC Portions of content provided by All Movie Guide ®, a trademark of All Media Guide, LLC
Film Type: Documentary
Rating: NR (not rated)
Running Time: 85 Minutes
Starring: John Hadden, Daniel Epting, Andrew Carson, Darius Weems, John Harmon
Directed by: Logan Smalley
"Darius Goes West" official website:
http://www.dariusgoeswest.com/film.html
In association with Cineworld, the proceeds from this charity gala event were donated jointly to Charley's Fund, a medical research charity seeking to find a cure for muscular dystrophy, and to the UK's Muscular Dystrophy Campaign.
Contact:
Lydia Drukarz, Director
Wavelength Public Relations
M. 07977 454180
E. lydia@wavelengthpr.com
Follow Wavelength PR on Twitter
http://twitter.com/WavelengthPR