Inaugural Online Auction Raises Over £5000
Posted on

November 26th, 2006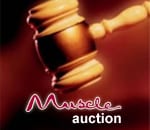 Congratulations to all of the successful bidders!
The Muscular Help Foundation's inaugural Muscle Dreams online auction is closed on Sunday 26th November 2006. The fundraising initiative raised a total of £5390, monies that will now help children suffering from life-threatening incurable neuromuscular diseases such as muscular dystrophy through the fulfilment of one or more Muscle Dreams.
"I am absolutely delighted to be able to announce that as a result of this innovative online initiative we are now in a position to start the process of carefully planning and delivering some special experiences through our Muscle Dreams programme. Although a small charity, our Muscle Dreams initiative is attracting a lot of interest, so although a good start, this is just the beginning" said the charities Chief Executive and co-founder Michael McGrath.
On behalf of The Muscular Help Foundation, thank you all for your support
In line with the charities prescribed Terms and Conditions outlined for this fundraising activity, remittances are now being collected from the successful bidders with auction items including certificates of authentication being despatched. The charity has already advised the winners via an official notification despatched on Friday 1st December 2006.
On behalf of The Muscular Help Foundation, thank you all for your support ~ please do come back and visit us at www.musclehelp.com before Christmas to see what Muscle Dreams are being planned and to hear about the first ever public appearance on television that will see the two individuals who are behind the imminent launch of MHF's unique fundraising double-act speaking initiative … watch this space!
Online Muscle Dreams Auction Summary of Successful Bids
£375.00 = 1 strictly limited edition "Respect" framed print signed by Pele [Lot:716/10]
£110.00 = 1 x Signed rugby ball by Francois Piennar, Springbok's captain [Lot:716/16]
£750.00 = Breakfast with GMTV presenter Lorraine Kelly [Lot:716/1]
£400.00 = Half-day injection of workforce motivation & wellbeing fitness session [Lot:716/21]
£275.00 = Ralph Lauren Polo Team's Executive Chef cooks dinner for you [Lot:716/2]
£150.00 = Double Magnum Baron de Rothschild Château Pauillac 2004 [Lot: 716/6]
£150.00 = Jon Snow Channel 4 News hand painted tie & signed photo [Lot:716/9
£40.00 = Signed Kawasaki Moto Team GB Shirts [Lot:716/4]
£100.00 = Oakley Goggles one-off bundle with Polarized A Frame® Lenses [Lot:716/17]
£110.00 = Signed Tim Henman Wimbledon shirt and his balls! [Lot:716/3]
£400.00 = 7 nights for 2 at luxurious Hilton Phuket Arcadia, Thailand [Lot:716/13]
£775.00 = 1 x A3 colour framed polar sketch by cartoonist Bill Tidy [Lot:716/15]
£750.00 = New York trip for two staying at the Waldorf Astoria on Park Av [Lot:716/5]
£650.00 = 2 nights in a Suite at 5* Waldorf Hilton Hotel & theatre tickets [Lot: 716/7]
£55.00 = 1 x Sweatshop bundle of Reebok fitness equipment [Lot: 716/8]
Did you know…
Some 40,000 people in the UK have the progressive muscle wasting disease known as muscular dystrophy, a devastatingly cruel and unforgiving disease
Diagnosed children will not be able to walk by their early teens and will be confined to a wheelchair
Those children with the most severe type known as Duchenne muscular dystrophy will die in their late teens due to either respiratory or cardiac failure
Muscular dystrophy is a degenerative disease that destroys lives and ultimately will result in 40,000 premature deaths
From the press office of The Muscular Help Foundation – Registered Charity No. 1096716
Contact:
Lydia Drukarz, Director
Wavelength Public Relations
M. 07977 454180
E. lydia@wavelengthpr.com
Follow Wavelength PR on Twitter
http://twitter.com/WavelengthPR