IAN RANKIN HOSTS EDINBURGH FUNDRAISER
Posted on

December 10th, 2012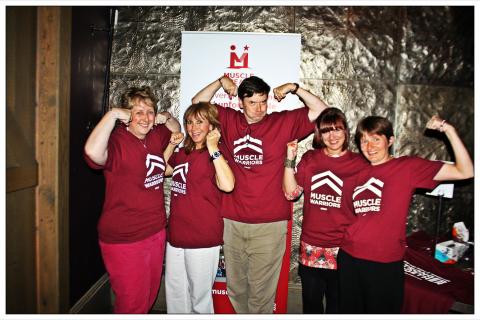 Ian Rankin, the UK's number one bestselling crime author, hosts Edinburgh Fundraiser
The Muscle Help Foundation held its very first Scottish Fundraiser at the stunning Ghillie Dhu, Edinburgh.
The former Episcopal Church offered the perfect backdrop for this Scottish-themed night of haggis, whisky and traditional Scottish Ceilidh dancing. Teamed with a fabulous array of raffle prizes and book signings it made for an electric atmosphere on the night.
Thanks to Edinburgh based research and consulting firm Wood Mackenzie, who kindly acted as corporate sponsor for the event, the night was an even bigger success.
The £1,200 raised from the evening funded an inspirational and life changing experience for two Scottish children with Muscular Dystrophy, at the charity's flagship Games Inspired Muscle Dreams programme at the London 2012 Paralympics.
Julia Twist, Mum to Jack from Clackmannanshire, said of their experience with The Muscle Help Foundation:
'I hope….all of the Muscle Warriors can sit back with a warm, fluffy feeling of knowing that your Games Inspired Muscle Dream has really made fantastic memories for families out there…, by providing such great support you've made it do-able for a whole load of families to travel to London and witness a fantastic Paralympics 2012 which has undoubtedly opened the world's eyes to disability and sport. Thank you, thank you, thank you Muscle Help Foundation! Stronger Together (indeed!).'
Sue Fisher, Mum to Sam from Berwickshire also sent thoughts about the day:
'Just a note to thank all you guys yet again for the most fabulous time Sam had at the Paralympics. Sam made all his school friends (and teachers) envious when he took his photos in and told them all about his experiences. He's also keeping in touch with Jake and Graeme, so 2 new friends too! He is just back from the Discovery Games in Dundee with a bronze medal for his boccia and has also been playing powerchair football. I'd like to thank you all for looking after us so well and for keeping me sane in that mad, mad, city! Also for keeping tabs on us right up until we were safely on the train. We loved, loved, loved, the whole experience from start to finish. THANK YOU!!'
Contact:
Lydia Drukarz, Director
Wavelength Public Relations
M. 07977 454180
E. lydia@wavelengthpr.com
Follow Wavelength PR on Twitter
http://twitter.com/WavelengthPR