Highgate and Hampstead Ironmen Strip for MHF
Posted on

January 1st, 2008

An extraordinary initiative by the 4th Leader (Laurens Holve) of the Hampstead and Highgate 'Ironmen Boys' group was featured on billboards across North London making front page news in the Ham & High Express.

Through his long standing friendship with motivational speaker Michael McGrath, the charity's CEO and co-founder, the 4th Leader depicted in the 2008 'IRONMEN CALENDAR BOYS' as 'Mr Sunny July', has wanted to find an appropriate fundraising vehicle for this small charity based in East Hertfordshire. The idea for the calendars (costing £5.00 each) was in part, inspired by that legendary WI's (Women's Institute) chapter's calendar, not on this occasion baring all – so far, over 150 calendars have been sold, with profits going to The Muscular Help Foundation's Muscle Dreams programme.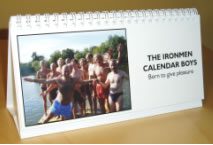 "THE IRONMEN CALENDAR BOYS" (depicted left) was a light-hearted way of attracting some media attention, whilst raising more awareness and money for this worthy charity. I've known Michael for over 20 years. Here is a man who through sheer determination, has reached two of the most extreme places on our planet, this despite being afflicted by muscular dystrophy – here is a man who lives and breathes all that is underpinned by a powerful spirit, an ethos that touches all those who participate in ironman activities, whether serious endurance athletes who push themselves to their absolute physical and/or cerebral limits or otherwise," said Mr Holve.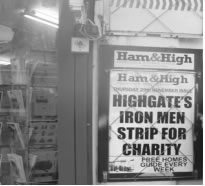 Billboards across North London (see right) towards the back end of Nov/Dec 2007 featured the headline 'HIGHGATE'S IRON MEN STRIP FOR CHARITY' – the group was originally started over five years ago and today it has grown into over 12 idiosyncratic individuals, with a mean age of circa 45 years!
"We are more than 12 men who live in or near to Highgate and Hampstead. Our somewhat unconventional 'Ironmen Group' activities have a distinctive character of their own – we come from all walks of life. We subscribe to our own 'Ironman Code of Honour' and some might say we're a touch eccentric. However, those who know of us, recognise the characteristics of a high-performing team, a unique eclectic gathering, ages ranging from early 40s to early 60s", added Mr Holve.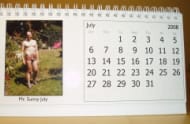 "Some of us live in houses with no heating and no running hot water. Some have decided to dispense with having a car. Some of us travel to work using pedal-power and nearly all hold non conformist views on the world", he concluded.
The original purpose was for a group of middle aged men to get together, swim and run on Hampstead Heath in North London, a unique part of the capital where heath land combines with the natural water facilities of ponds, where 'real athletes' as well as the 'general public' enjoy (mostly for free) their respective cardiovascular pastimes. Over the years a new camaraderie and symbiosis developed – it was recognised that the particular men in question all shared a healthy individualistic approach to society, to life and the universe. Many do not conform to the demands that society malevolently puts on its citizens.
The 4th Leader Laurens Holve recognised the unique talents and personalities of the group; using his own 'continental persona', he has steered his fellow ironmen towards a more complimentary, yet different approach to those who subscribe to the traditional triathlete way where discipline, focus and a robust competitive streak are the norms.
To the 4th Leader, the essence of being an 'ironman' is not so much about 'slavish training regimes' and intense chatter about 'race times' and 'PBs' (personal bests), but more a recognition of the inherent potential that lies in each and every one of us to express ourselves, either physically through running or through creative channels such as writing. This innovative direction has solidified the group into a more cohesive assemblage, further reinforcing the legitimate beliefs that each member holds.
Past initiatives have included YouTube appearances and satirical ironmen newsletters. Current plans include more ironmen paraphernalia and accoutrements such as mouse mats, post cards and even Christmas cards … now being planned for 2008.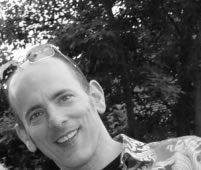 Finally, rumours of an exciting theatrical performance have just emerged from the 4th Leaders HQ in London, ironically being written, produced and directed by Mr Holve himself who describes the offering as 'unconventional, witty and fun'.
"Those who reside in the Hampstead and Highgate communities can look forward to an enthralling and comical opening night (towards the back-end of 2008) with all proceeds going to The Muscular Help Foundation", said Mr Holve (pictured).
Ham & High News Feature
30th November 2007
"Our man (nearly) braves the pond in a good cause"
Contact:
Lydia Drukarz, Director
Wavelength Public Relations
M. 07977 454180
E. lydia@wavelengthpr.com
Follow Wavelength PR on Twitter
http://twitter.com/WavelengthPR