Gorilla with muscular dystrophy drum-rolls for 65:7secs raising £1,600 for Muscle Dreams
Posted on

June 15th, 2015

On the 15th June 2015, something magical took place! A man named Jez with muscular dystrophy donned a gorilla head and drum-rolled for 65mins and 7secs in aid of The Muscle Help Foundation – that's the #powerof657.

Now a fully-fledged Muscle Warrior, Jez raised the magnificent sum of nearly £1,600.00 via his online Golden Giving fundraising page here with messages of support and donations being made from family, friends and work colleagues.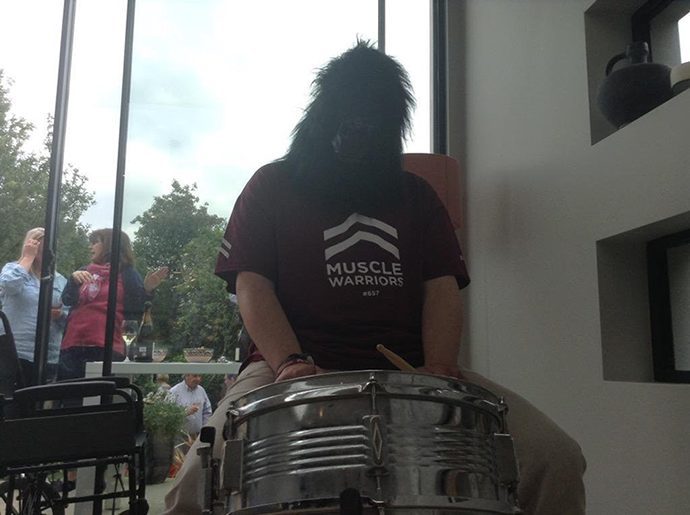 Pictured above: Jez (centre with drum sticks) with family and close friends
On the 15th June 2015, @drummingGorilla (Jez) wrote the following tweet:
"Bit tired today. Thanks for all of your support. Yesterday I managed to drum roll for 65mins and 7secs. #powerof657"
And one of the messages of support posted on his Golden Giving page read:
"Congratulations Jez from the IMS Consulting team!! Phil Collins – eat your heart out! 🙂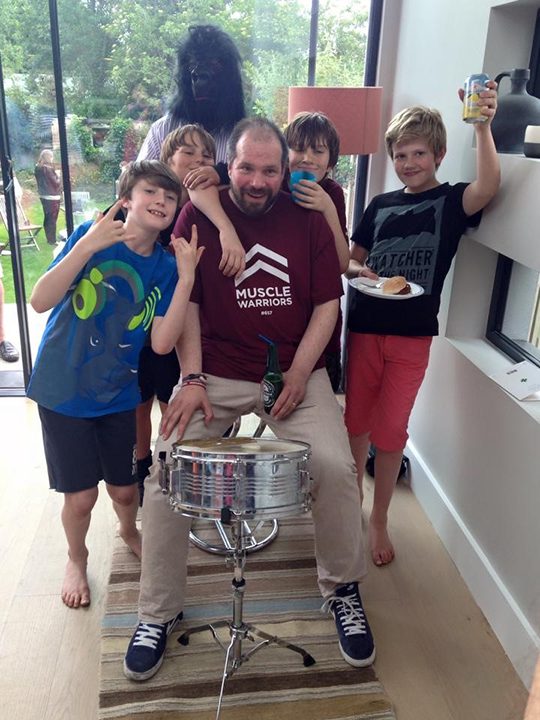 Pictured above: Jez (centre with drum sticks) with family and close friends
MHF's CEO Michael McGrath said: "The commitment shown by Jez was outstanding. In flexing his fingers, hands, arm, shoulder, neck and back muscles for over an hour demands enormous respect. We spoke about what sits behind the #powerof657 and the link between the number of muscles in the human body and our ambition to deliver 657 Muscle Dreams. I recall Jez saying to me that having muscular dystrophy would never be an excuse for 'not leading a fulfilling life and most importantly for not giving back more than I take out'. He is a true Muscle Warrior and we're extremely grateful not only for his fantastic fundraising efforts but also for his determination in drumming for 65:7secs! Who's next?"
There are 2 kinds of people, those who remember the drumming gorilla advert of 2007 and those that don't.  It was a defining moment in chocolate bar advertising, but not one that I thought I'd be writing about 8 years later and certainly not one I imagined recreating (kind of) to raise money, have some fun and get drumming again.
My #657Drumathon was about compassion, resilience and defiance, all served up with a burger and a good few bottles of wine as my friends assembled to witness. My snare drum was recovered from my parents loft only weeks before as I'd given up drumming even though it was a teenage passion of mine.
I was diagnosed with an adult onset Muscular Dystrophy when I was in my late 20s and, 13 years on, am now experiencing significant changes in my arm and leg functions.
A drum roll was then my only real chance of making an impact with the sticks. The world record was out of sight at more than 12 hrs but I thought 65mins 7secs was just about reachable. I bought a practice pad and started woodshedding (intensive practice in private). Once I went public, the expressions of support and sponsorship from friends and family was amazing. I wanted to raise £657.00, but doubled that after a couple of weeks and at the last count have reached over £1400.00.
…One hour passed almost without remarking, all the really fast songs were behind me and the drum head was still responding well, keeping the open roll flowing. It was the final countdown – from the support team, not the 80s hair ballad from Europe – that proved to be the hardest.
With a minute to go I was trying to roll to This Is a Low by Blur and a second by second countdown with a different time signature! I had planned and practiced a switch to a double stroke roll to finish but, running out of puff, was elated and content with just a flam and the cheers and roars that followed.
Taking the cheers and congratulations, I was enormously satisfied with my work and realised quite how much I needed to get the, by now stifling, Gorilla Mask off and swig on a deserved bottle of beer.
The above excerpt is from a blog written by Muscle Warrior 'Jez'
Contact:
Lydia Drukarz, Director
Wavelength Public Relations
M. 07977 454180
E. lydia@wavelengthpr.com
Follow Wavelength PR on Twitter
http://twitter.com/WavelengthPR