Worcester Warriors
Date Fulfilled:

April 2008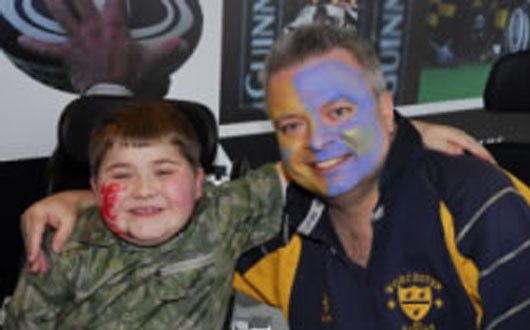 Three Muscle Dreams Delivered at Sixways Courtesy of Worcester Warriors & Kukri Sports
Worcester Warriors teamed up with official kit supplier Kukri Sports to support the work of The Muscular Help Foundation (MHF) and make the Muscle Dreams of three rugby fans come true on Saturday 5th April 2008 at the Heineken European Challenge Cup quarter-final clash against French rugby team Montpellier, in which the Warriors were victorious!
Warriors supported the work of MHF through their unique Muscle Dreams programme with a very special VIP day out for rugby fans – Stuart Reid aged 25 from Solihull, Murray Field aged 10 from Droitwich and Benjamin Davies from Mold in Wales aged 11, all of whom have the most severe form of muscular dystrophy, called Duchenne or DMD for short.
The club was delighted to play its part in a special day for the trio and also back the work of Michael McGrath who himself suffers from muscular dystrophy. He is a sought after motivational speaker, famed polar explorer (as the only disabled person in the world to have reached both the North and South Poles) and CEO and charity co-founder of The Muscular Help Foundation.
"A huge thank you to every one for making these three Muscle Dreams such an unforgettable experience! There were some incredible touch-points throughout the day, not least a life-changing decision that has helped one set of parents with the really tough decision in helping to transition their son to a SEN (special education needs) school where they play power-chair rugby! A true warrior moment!" said Michael McGrath.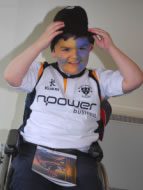 "As with all community events such as these, the devils in the detail and I know just how much hard work goes on behind the scenes to plan and execute, so a big thank you to all those who helped us knit together such a fabulous day! You've helped bank some brilliant memories!" he commented. Special thanks to those who assisted on the day including Matthew Adams, Tim Matthews and his son James and Vicky Haverson (our dedicated event photographer).
Through MHF's Muscle Dreams initiative, the charity aims to realise unforgettable experiences for children or young people in the UK afflicted by muscular dystrophy, a muscle wasting disease that is the single biggest genetic killer of children our planet today. Through this tailored activity, their goal is simply to deliver fantastic and above all memorable experiences, enabling beneficiaries to live a dream or perhaps fulfil a cherished ambition that perhaps a family simply cannot afford, whether it for example be meeting a famous television celebrity chef, driving with The Stig and meeting the presenters off the BBC's ever popular Top Gear programme (watch this space!), enjoying the school run of a lifetime or watching the Warriors perform from the warmth and comfort of two VIP corporate hospitality boxes in the fully accessible South Stand!
In understanding the issues faced by those with muscular dystrophy and through the support of their growing partner network, the charity communicates with parents and/or guardians in assessing, planning, funding, organising and delivering each Muscle Dream, taking care of every detail, ensuring ultimately that the experience (be it recreational, educational or inspirational) is fulfiled to the best of their ability.The Warriors welcomed the three supporters to the club to enjoy a fantastic day out. All three guests including their respective carers were given an exclusive behind the scenes tour of the Sixways Stadium by Tom Ryder and Simon Lane of the clubs community team, where they got to meet some of the players.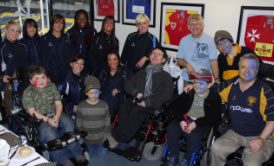 The Kukri Allstarzz dropped by just before kick-off (pictured) and the three rugby fans were hosted throughout the day by Steve Lloyd of Kukri Sports who generously provided the delicious catering (that included a number of bespoke meals such as an awesome spaghetti Bolognese produced by Chef Shuttleworth) as well as a number of free gifts from both the Warriors and Kukri as mementos of their day with the club.