Spurs, Hilton Park Lane & Planet Hollywood
Date Fulfilled:

May 2010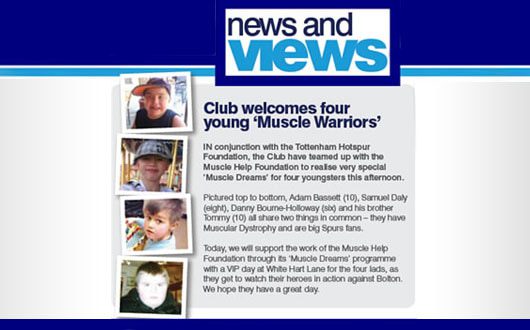 Tottenham Hotspur welcomed four young Muscle Warriors™ to White Hart Lane on Saturday 1st May as part of a very special Muscle Dream™ experience organised by The Muscle Help Foundation – the packed schedule also included an overnight stay at the London Hilton on Park Lane for the families, a group dinner at Planet Hollywood and personalised goody-bags for the four Muscle Dream™ beneficiaries Adam, Samuel, Tommy and Danny.
Sat 1st May 2010 was a day that will always be remembered not only by The Muscle Help Foundation's latest Muscle Dream™ recipients but also by their families. The programme kicked-off with the four boys accompanied by one of their parents receiving a warm welcome by the charity's co-founder Michael McGrath before being escorted to their very own corporate boxes, courtesy of the Tottenham Hotspur Foundation. All 4 boys have the life-limiting muscle wasting condition Duchenne Muscular Dystrophy (DMD).
"I would like to pay particular thanks to James Isaac of the Tottenham Hotspur Foundation for his tremendous help in knitting the day together and for also hosting our Muscle Warriors™ group so warmly in the two hospitality boxes that the club so generously gifted to the charity on the day," said Michael McGrath.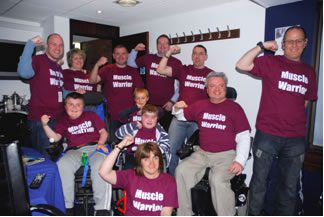 After the match against Bolton which saw Spurs win, the group drove in convoy across town to the fashionable London Hilton on Park Lane where there was time to freshen up before heading off for a scrumptious group dinner to the Planet Hollywood restaurant, the world's one and only dining experience inspired by the glamour of Hollywood and backed by megastars Sylvester Stallone, Bruce Willis, Arnold Schwarzenegger and Demi Moore!
Some of the comments received from the boys mum's and dad's included:
"You have not only made our little boy's 'Muscle Dream' come true but also his entire family! At no point did anyone feel left out – the added surprises and little touches throughout the day were so very special … we felt like royalty"
"Our son's eyes popped out of his head in our amazing bedrooms at the Hilton Park Lane when he saw the presents you bought him for his own special goody-bag. He completed the Lego in record-time!"
"We met a lot of lovely people … the other families and your family have now become and will always remain our firm friends"
"We will remember your help and generosity for years to come. The visit to Planet Hollywood was quite an experience, and to stay at one of the top hotels in London … the Hilton, was the icing on the cake!"