Sam's 18th Birthday Motability Muscle Dream Experience
Date Fulfilled:

23rd August 2017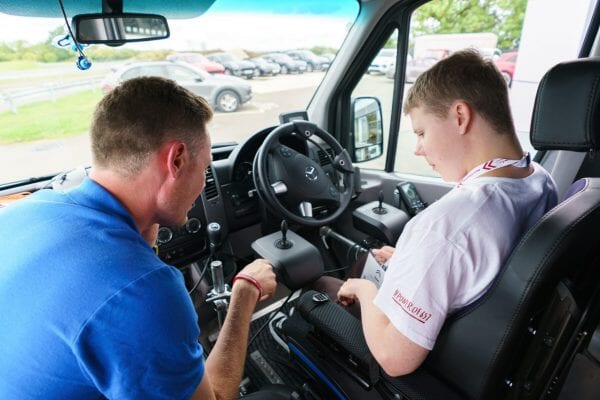 Leicestershire teenager receives the gift of a lifetime on his 18th birthday by making his Muscle Dream to drive a reality. Sam has Duchenne Muscular Dystrophy, a severe and life limiting form of Muscular Dystrophy. Sam's mum wasn't sure if her son would ever be able to drive so she approached the charity to see if they could help. The rest as they say is history!
The small, family charity has one mission – to deliver 657 Muscle Dreams for children and young people with Muscular Dystrophy and allied neuromuscular conditions; that's one life-changing experience for every muscle in the human body.
Not one to back away from a challenge, MHF's CEO (affectionately known as the Chief Muscle Warrior) Michael McGrath enlisted the help of long-standing partners the Porsche Experience Centre and Whittlebury Hall to help deliver Sam's unique experience. In addition, Michael approached Motability to find a vehicle with suitable adaptations that would enable Sam to drive for the first time in his life.
Sam's Muscle Dream, the 260th arranged by the charity, started with an overnight stay and a family dinner on Tues 22nd Aug 2017 at Whittlebury Hall. The following morning, a scrumptious full English breakfast was served to the families adjoining rooms. After a mid-morning manicure for Sam's mum Rachel, the family that included Lee (Sam's dad, his younger brother 16yr-old Jack and younger sister 10yr-old Rebecca) came together in the Silverstone Bar to meet MHF's Hosting Team for mid-morning refreshments, swing-ball in the courtyard and a surprise reveal of a £10,000 drone (Sam's favourite gadget), the S1000 Octocopter brought by drone aerial filming and photography specialists CineCloud.
Following a Celebratory Muscle Warrior birthday lunch in the Imola Suite dressed in blue birthday banners, blue napkins and a big blue birthday card personally signed by several members of the Whittlebury Hall hotel team, Chef Danny and David Munson (Hotel General Manager) presented Sam with a specially made blue-iced birthday cake – blue is Sam's favourite colour!
Unaware of what was to follow, Sam travelled to the Porsche Experience Centre at Silverstone for a VIP tour of the facilities, a special afternoon tea and then Sam's first big birthday surprise was then revealed – a driving experience in a specially adapted vehicle. For the first time in his life, Sam took the wheel for an hour-long experience, accompanied by one of Motability's specially trained driving advisors.
"I can't thank you enough", said Sam's dad Lee after watching his son reverse and park-up after his lesson.
One final surprise awaited Sam, a thrilling passenger ride with Porsche Driving Consultant Simon Simpson around Porsche's specially designed track in a blue Porsche 911 for some cornering, drifting and handling at speed together with a session on the ice hill.
Many charities offer experiences of a lifetime, but what sets MHF apart is how they not only involve the whole family, both before, during and after the experience but also how every Muscle Dream experience is personally hosted by Michael who himself has muscular dystrophy, supported by his wife Sue.
A text message sent from Sam's dad Lee to Michael said: "Thank you once again to everyone involved yesterday. It was the most amazing experience for all of us."
Motability's Chief Executive, Declan O'Mahony said: "When the Muscle Help Foundation asked if we could play a part in Sam's Muscle Dream, we were only too pleased to assist. Driving technology and adaptations are more sophisticated than you might imagine, and some people who think they can't drive because of their disability can with the right equipment. We couldn't think of a better way to celebrate Sam's 18th birthday than playing a part in the Muscle Help Foundation's plan to realise his dream of driving a car."
Click HERE to see Sam's dedicated Flickr Photo Album.
Click HERE to learn about the charity's #powerof657 campaign.
Contact:
Lydia Drukarz, Director
Wavelength Public Relations
M. 07977 454180
E. lydia@wavelengthpr.com
Follow Wavelength PR on Twitter
http://twitter.com/WavelengthPR