Ready Steady Cook
Date Fulfilled:

February 2007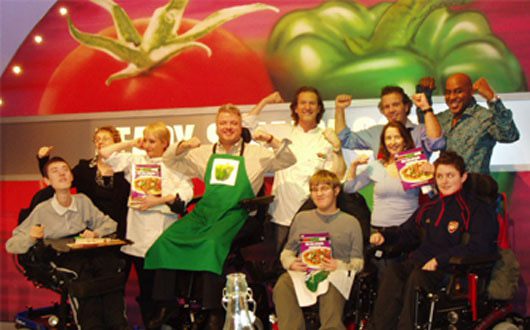 Muscle Dreams were fulfilled for three boys from Hampshire and Essex with the most severe type of muscular dystrophy [MD] known as Duchenne [DMD]. The boys responded to a nationwide search coordinated by The Muscular Help Foundation [MHF] for those with muscular dystrophy in the UK with a passionate interest in food and cooking, with the opportunity to meet Ainsley Harriott and the show's celebrity chefs on the set of BBC2's popular TV programme READY STEADY COOK.
The boys arrived at the recording studio in London, spending some time in the private restaurant where they met Ready Steady Cook presenter Ainsley, his two guest chefs Leslie Waters and Paul Rankin and polar pals Pen Hadow and Michael McGrath – they watched the filming of a special show that included contestants McGrath and Hadow who battled head-to-head in the kitchen. As to the outcome of their 'men or mice' culinary efforts, tune in to BBC2 on Tuesday 6th February at 4.30pm and make your own mind up!
After the filming had finished, there was a photo on the actual Ready Steady Cook set, culminating with a group Muscle Salute symbolising hope, courage and inner strength for the 40,000 muscular dystrophy sufferers and their carers in the UK. The boys were then presented with 'The Ten-minute Ready Steady Cookbook', personally signed by Ainsley, Leslie and Paul. After leaving the studios, an enjoyable late afternoon lunch concluded the day's proceedings, hosted by Messrs McGrath and Hadow.
Despite dreaming of scrumptious food enroute to both poles, McGrath ('Green Pepper') brought his favorite ingredients including a whole lemon sole for Leslie to cook up in demanding, if somewhat warmer kitchen climes. Hadow ('Red Tomato') brought a number of ingredients that included Dartmoor beef and some Savoy cabbage which Paul turned into a feast fit for a polar bear!
"The show was great fun, Ainsley was fantastic and there were moments I know on both our polar exploits where having Ready Steady Cook chefs on tap would have been magical! Appearing on the show is a privilege and a great way to raise more awareness about this wretched and unforgiving disease that robs sufferers of their independence, mobility and finally, for those with the most severe form, their lives. It's said that time waits for no man; that's why I'm a man in a hurry to inspire action, attract funds and recruit 'muscle champions' to ultimately sell life and hope", said McGrath, the Foundations CEO.
He concluded by adding, "Despite the incredibly slim winning margin of just two red tomatoes, Pen was magnanimous in victory, donating his £100 to The Muscular Help Foundation. He's a true 'muscle champion' and the charity is grateful for his support."