Marriott Twickenham Triumph: Muscle Warriors Jacob, Luke & Jack salute you
Date Fulfilled:

February 2014
The Marriott London Twickenham Hotel recently partnered with specialist family charity The Muscle Help Foundation in its first Rugby Muscle Dream programme on 21/22 February 2014 to help deliver a once-in-a-lifetime sporting experience around the England v Ireland RBS 6 Nations match at Twickenham.
Pictured above: group Muscle Warrior salute outside the Marriott London Twickenham Hotel. Muscle Dream beneficiaries Luke Tierney (aged 9yrs) with Paul Tierney (dad), Jacob Waltier (aged 14yrs) with Richard (dad) and Jack Haggett (aged 20yrs) with Jess Hagget (dad) together with colleagues from the hotel and charity volunteers.
Following an overwhelming number of nominations from across the UK, the two day rugby programme was a triumph. Three families arrived at the hotel on the Friday for a two night stay which began in the evening by watching the England v Ireland Clash of the Legends (organised brilliantly by Sporting Class) with a private hospitality box and dinner at the Twickenham Stoop (home of Harlequins RFC). The evening included meeting many players including Jason Leonard, Bill Beaumont, Andy Gomersall, Shane Byrne and Hugh Vyvyan to name but a few and also a visit from the Majorettes Allstarzz Sports Dance Team.
14yr-old Jacob has Spinal Muscular Atrophy (SMA) Type IIIReferred by consultant physiotherapist at Great Ormond Street Hospital for Children NHS Trust: "He absolutely loved it – words do not adequately capture the (Twickenham Rugby Muscle Dream) experience he had other than to say it is an experience that will live with him for as long as he lives" (Source: Richard Waltier, dad of Muscle Warrior Jacob, pictured below with England rugby legend Bill Beaumont)
Room Service breakfast and fortuitously meeting Jonathan Dance (the RFU's Vice President) who handed out some RFU badges and wristbands to our beneficiaries in the hotel foyer on match-day morning and also a certain Greg Wallace (best known for co-presenting MasterChef) outside the hotel got the big day off to a memorable start! Match-day tickets (courtesy of an RFU-ballot) with excellent wheelchair accessible spaces and seats right at the front on the half-way line provided an awesome view.
No experience these days would be complete without some social networking – big thanks to the charity's Social Network Champion and key Volunteer Steve Stone along with Patricia Herlin (Sales Executive at the Marriott London Twickenham) who joined in the many pre and post Muscle Dream tweets ensuring the hotel and some its patrons engaged in the @MarriottTwicker #RugbyMuscleDream conversation together with Greg Wallace, an avid rugby fun who evidently enjoys the odd tweet!
20yr-old Jack has Duchenne Muscular Dystrophy (DMD)Referred by Clinical Directorate, Helen & Douglas House, Oxford: "Home safe and sound! WOW! What an experience for Jack and myself. It's going to take a while to take it all in what was gifted to us. Thank you all so so much! The organisation, on-hand support, the total care and consideration for Jack and your generosity was superb. The experience will live long into our memories" (Source: Jess Haggett, dad of Muscle Warrior Jack, pictured to the right of Greg Wallace)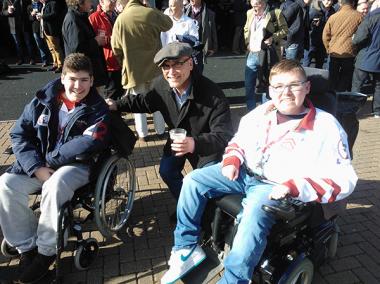 Michael McGrath, CEO of The Muscle Help Foundation commented "I cannot begin to tell you the impact of having Marriott's magnificent support of this our first Rugby Muscle Dream programme – thank you! The hotel was fantastic! The staff including the General Manager and the Director of Operations became a part of our Muscle Warrior hosting team – they helped us change some more lives and give hope and for that we send them all a big Muscle Warrior salute, a visible symbol of hope, courage, strength and joy for all those with muscular dystrophy across the UK!"
"The hotel not only provided great hospitality and great service but also many little memorable Marriott touches including bags of sweets, a rugby ball and personal greeting messages on the TV's in the excellently appointed accessible rooms. It was I know an outstanding experience for all three families. Early days, but I'm now thinking about perhaps working up a Muscle Dream programme opportunity around the forthcoming 2015 Rugby World Cup – watch this space!" added McGrath.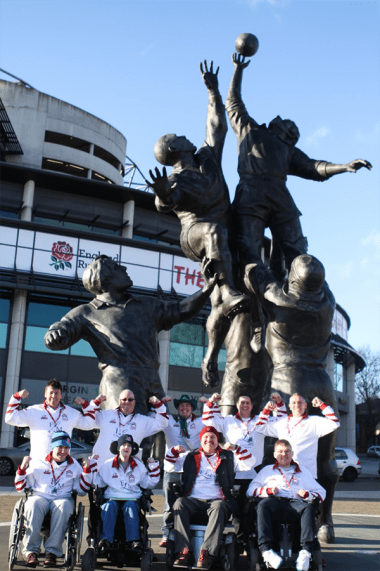 Pictured above: group Muscle Warrior salute – BACK ROW: left to right – Richard Waltier, Paul Tierney, Steve Stone (MHF Volunteer Host with green cowboy hat), Andy Peasey (MHF Volunteer Host from Ruggerbugs), Jess Haggett. FRONT ROW: left to right – Jacob Waltier, Luke Tierney, Michael McGrath (Charity CEO), Jack Haggett