Diversity are 'limitless' – Meet Muscle Warriors Sanah & Kye
Date Fulfilled:

December 2013
17yr-old Sanah and 16yr-old Kye together with their respective families enjoyed a couple of fabulous days in London just before Christmas last year.
Thanks to one of the charity's partners PwC, a corporate hospitality box at the O2 Arena with its own dedicated host who splendidly looked after the group with a scrummy selection of hot food and refreshments, provided the perfect setting overlooking the main stage for the two VIP's to watch Diversity's 'Limitless' performance.
Spurred on by the group's motto 'Dream, Believe, Achieve', the 2009 Britians Got Talent winners delivered their critically acclaimed show to a packed house.
16yr-old Kye has Duchenne Muscular Dystrophy (DMD)Referred by a Spinal Nurse at Manchester Children's Hospital, Kye wrote in his Muscle Dream nomination: "I've watched Diversity many times before but never in person; I think they're wicked. They are all so good at what they do; they've inspired so many people – to be able to say 'I've seen them live' would be amazing – got all my fingers crossed!"
17yr-old Sanah has Spinal Muscular Atrophy (SMA type 3)Having heard about the Diversity opportunity through the Jennifer Trust for Spinal Muscular Atrophy (JTSMA) and subsequently referred by her Muscular Dystrophy Care Advisor at CDC Heartlands Hospital in Birmingham, Sanah wrote in her Muscle Dream nomination: "It would be amazing to see them (Diversity) dancing live … wow! I love watching people dance, I love dance films, I just love dance! If I could walk I would be a hip hop/break dancer. Dancing is such and amazing talent. I would be so so happy if I got to see them perform live – my dream would come true!"
The families checked-in and were warmly welcomed by the staff of the luxurious Radisson Edwardian New Providence Wharf Hotel in Canary Wharf – with spectacular views, it was indeed the perfect riverside location opposite the O2 Arena.
Pictured below Sanah and Kye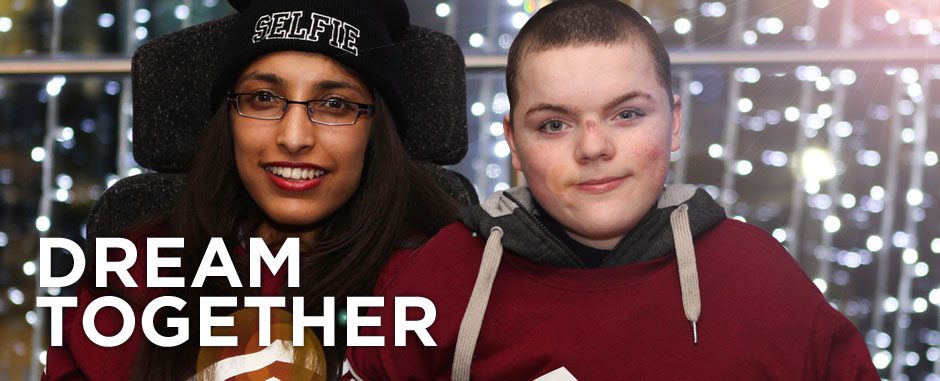 The hotels interior Christmas decorations added a magical background to the pre-performance family photo-shoots that included group Muscle Warrior salutes, a visible symbol of hope, courage and strength for Muscular Dystrophy sufferers across the UK and both Sanah and Kye and their respective family members got into the spirit of the occasion by proudly wearing the charity's distinctive STRONGER TOGETHER wristbands.
Michael McGrath, Chief Muscle Warrior and MHF's CEO, said: "It was a real privilege to spend some quality time with Sanah, Kye and their respective families – we had a lot of fun, many laughs and a few tears together. The staff at the hotel were absolutely fantastic and the rooms were I'm told (quote unquote) … 'shaweeet'! Our hosts at the O2 Arena were wonderful and I know that both Sanah and Kye very much enjoyed meeting Olympic rower Tom Solesbury, one of the charity's newly appointed Ambassadors who joined us for dinner in our box. As for Diversity, the show was amazing, incredible choreography and full of energy!"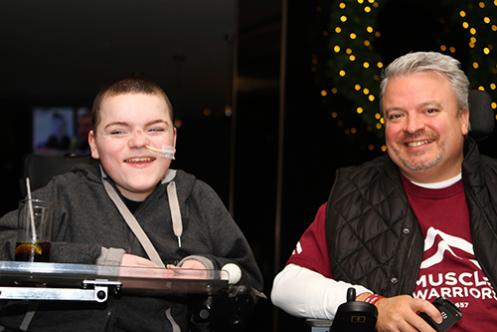 Pictured above Kye with Michael McGrath