Freman College students join Muscle Warrior tribe
Posted on

October 17th, 2013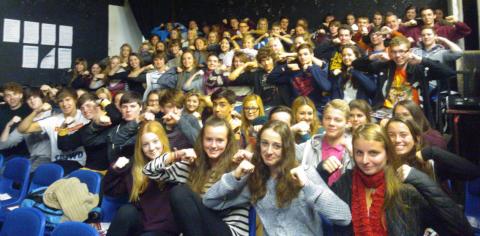 Sixth Form students from Freman College in Buntingford have joined forces with The Muscle Help Foundation following a return visit to share the work of the inspirational muscular dystrophy charity led by Michael McGrath.
The Muscle Help Foundation has been selected to be the nominated charity for this year with sixth form students enthusiastically planning a number of fund-raising strategies which, over the course of the year, will raise vital funds to help young people across the country who suffer from muscular dystrophy. Students also learnt about the charity's #657 appeal to inspire individual donors to 'move their muscles' to raise £65.70 across the next few months in recognition of the number of muscles in the human body.
On top of creating their own fundraising ideas students will be joining the charity's tribe of Muscle Warrior volunteer fundraisers on Friday 29th November at the Buntingford Christmas market and on Saturday 30th November on the GRIM challenge – 8 miles through muddy MOD land in Hampshire! Join the tribe and sign up here.
Contact:
Lydia Drukarz, Director
Wavelength Public Relations
M. 07977 454180
E. lydia@wavelengthpr.com
Follow Wavelength PR on Twitter
http://twitter.com/WavelengthPR