Fantastic Football Fiesta at Watford's Vicarage Road raises over £12,500 for Muscle Dreams
Posted on

May 22nd, 2015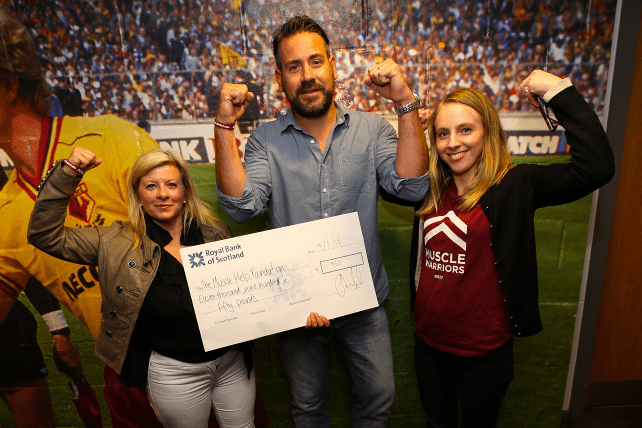 Pictured above (left to right): Fay Sharpe, Chair (Board of Trustees) Muscle Help Foundation receives a big cheque from Steve Luff and Gemma McGrath (Charity Volunteer) … all delivering a Muscle Warrior salute!
Twenty-eight footballers took the chance to showcase their skills at Watford's Vicarage Road in a charity match that has so far raised over £12,500 for The Muscle Help Foundation.
The footballing fiesta was held on Thursday May 14 and saw twenty-five businesses from the area clash at the newly-promoted Premier League club's hallowed turf. Not even the rain could dampen the spirits of the crowd that packed into the Hornets' new East Stand and the £10,000 original target set by the organiser was easily surpassed on the night.
The evening was the brainchild of Watford FC stalwart supporter Steven Luff, who decided, after organising a smaller-scale match for the first time last year, to 'take it up a notch'!
"I was introduced to Michael McGrath, CEO of The Muscle Help Foundation through a mutual friend and I saw all the great work he does through the charity, the amazing things they arrange and the support they give."
"It was decided that was the charity we should go for. Today twenty-eight fabulous guys have come in and surpassed every expectation. I initially thought £10,000 was a very broad target and if we can hit that then fantastic. Looking at the total now, I think we will finish around £12,500 which is excellent." commented Steve.
"Having organised many charity football matches in the past for various charities I was looking for a charity that really stood out from the crowd in terms of the support that they gave their beneficiaries.I was told about a fantastic charity called The Muscle Help foundation and was given Michaels' contact details to discuss how we would go about achieving our goal.It was immediately clear to me that I had chosen the right charity once I met Michael and was told about all the great work that he and all the charity do for young people with Muscular Dystrophy.
It was now my time to pull together two teams of 14 players that were not only willing to pay for the chance to play at Watford FC but also raise a good amount of money for the charity via donation pages (Golden Giving) that I set up for them.
I managed to get a full quota of players that not only took time out to be part of this fantastic occasion but with a combined effort we raised over £12,300 which is still continuing to grow.
The event took place on Thursday May 14th which was a very wet day indeed as it rained solidly from 11am all the way through to 11pm, however this did not deter the players who were really up for a great entertaining game.
The 90 minutes came and went with a few moments of magic on the pitch combined with a few comical moments but everyone got through intact and the score finished 7-4 to the home team.
The guys really put all their efforts into making a really entertaining game for the crowd who braved the elements to cheer us on and it made for a great event!
It was my pleasure to hand over a cheque to the charity at the end of the evening for around £11,950 (which has now grown!!) but I can honestly say that I could not have done it without the fantastic support from all the guys that played on the evening and really got behind the cause.
I know that all the money will go to helping The Muscle Help Foundation continue their great work and add to the ever growing list of amazing 'Muscle Dreams' that they organise."
SOURCE: Steve Luff
Pictured below: Steve Luff with Michael McGrath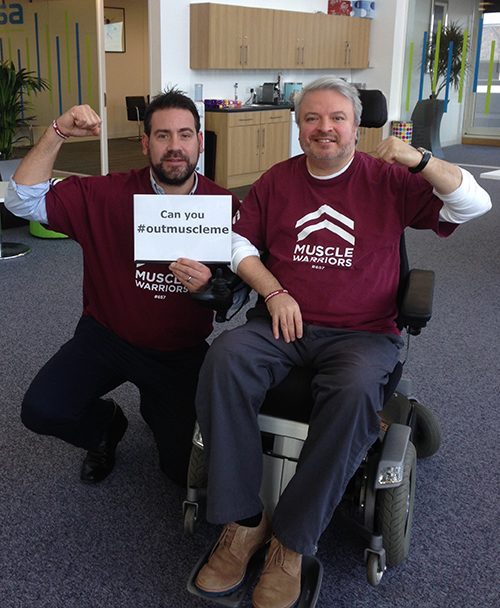 "WOW; what a remarkable team effort! Twenty-eight true Muscle Warriors! From the bottom of our hearts, thank you for flexing your football fundraising muscles so brilliantly for young people whose muscles are broken and wasting away." said the charity's CEO Michael McGrath.
"Driven by our #powerof657 national campaign, the charity's ambition is to deliver a total of 657 Muscle Dreams – that's one life-changing experience for every muscle in the human body. The funds raised from this event will move us a little closer to this goal."
"As a small family charity with limited resources, we are constantly seeking new supporters to help raise the vital funds needed so we can continue with our work – muscular dystrophy is a life-limiting muscle wasting disease. It robs sufferers of their independence, mobility and finally for those with the most severe form, their lives. It's the single biggest genetic killer of children in our world today – fact!"
"To be out in what was a horribly cold wet evening kicking a ball around in aid of our little charity means a lot – forget the Three Musketeers, this is about the Twenty-Eight Muscle Warriors; thank you one and all." added McGrath.
Contact:
Lydia Drukarz, Director
Wavelength Public Relations
M. 07977 454180
E. lydia@wavelengthpr.com
Follow Wavelength PR on Twitter
http://twitter.com/WavelengthPR