Eight new 'Muscle Warriors' graduate from the #Classof2014 with flying colours
Posted on

September 18th, 2014

The stunning Whittlebury Hall Hotel in Towcester and the iconic Porsche Experience Centre at Silverstone once again played host to eight very lucky young 'Muscle Warriors' from across the UK when they took part in MHF's annual Porsche Muscle Dream Driving Experience Programme that took place on Tues 22nd – Wed 23rd July 2014.

The boys (aged between 10yrs – 20yrs) all have the most severe form of muscular dystrophy called Duchenne Muscular Dystrophy (DMD); the eight beneficiaries and their families travelled from different parts of the country arriving at the hotel to be greeted by MHF's 2014 Volunteer Hosting Team that included several people from leading events specialist Zibrant Live bearing gifts of t-shirts and bulging goody bags.

After a delicious lunch at the hotel, they had the chance to meet and have photos taken with one of the charity's official Ambassadors, top Porsche racing driver, Josh Webster, who recently won the Porsche Carrera Cup GB Standings.
There were more surprises after lunch when two Porsche cars – one of which was Josh Webster's actual racing car and the other a £1million privately owned Porsche GT1 were revealed. Squeals of delight resounded across the hotel's courtyard as the self-confessed 'petrol head' boys had a chance to see, hear, touch and have photos of the cars. See photo above: <CREDIT Peter David Hutchinson Photography 2014>
The piece de resistance came on arrival at the Porsche Experience Centre where a group Muscle Warrior salute (pictured below) was followed by a team briefing led by Porsche's Chief Driving Instructor Gordon Robertson.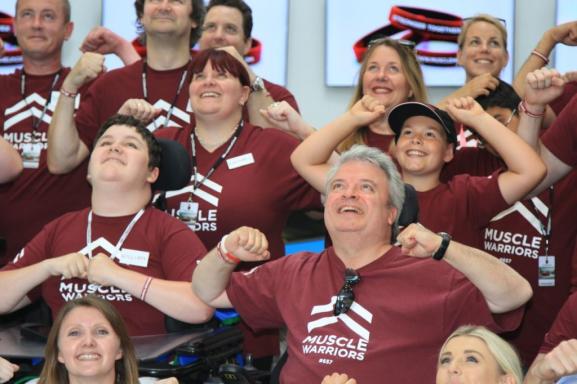 Now in its 4th year, the programme attracts considerable interest from several of the Porsche professional racing drivers who want to be a part of the experience – this year, the drivers took each of the excitable boys for a spin on the newly extended Porsche Experience Centre track, then onto the world famous Silverstone Grand Prix circuit in a Porsche 911 where rubber was indeed burned; this was followed by a measured drive on the off-road track in a Porsche Cayenne.
With the boys' faces beaming with pleasure and smiling from ear to ear, the evening's proceeding's kicked off with MHF's signature slap-up Celebratory Muscle Warrior Dinner Party back in the hotel's beautiful Bentley Suite, a private dining room – personalised menu cards, crisp white napkins and a delicious menu added to the whole experience.
The day ended with a presentation from MHF's Volunteer Hosts to each Muscle Warrior beneficiary of a personally signed photograph by both Josh Webster and also Lewis Hamilton. Photos below: <CREDIT Peter David Hutchinson Photography 2014>. All the families stayed overnight.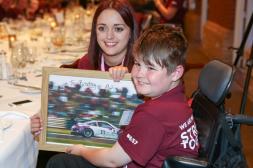 Michael McGrath, CEO of the Muscle Help Foundation, said: "The sun shone, the energy was palpable and a fantastic day out was had by one and all! We are thrilled that, thanks to the amazing generosity of everyone at the Porsche Experience Centre and the staff at the Whittlebury Hall Hotel, we were once again able to change lives and give some hope and joy to our eight beneficiaries and their families".
"These boys are what this is all about; they are the VIPs and the spotlight was on them for the duration of this programme: it is such a privilege for my team and I to spend quality time with each of them and for their families to trust us with their sons – we will, I know, always remember their smiles and their excitement! We're already looking forward to 'Lighting it Up' next year. Bring on 2015!" added McGrath.
Contact:
Lydia Drukarz, Director
Wavelength Public Relations
M. 07977 454180
E. lydia@wavelengthpr.com
Follow Wavelength PR on Twitter
http://twitter.com/WavelengthPR