Die Another GRIM-Day for Muscle Dreams
Posted on

August 31st, 2010

NEW GRIM DATE: SAT 15 JAN 2011

With the new date now in place, there is now a little more time to sign-up (only using our charity's Booking Form), raise the required minimum of £150.00 pp and join our growing Muscle Warriors GRIM-team in the New Year – to get a Booking Form for SAT 15 JAN 2011, you must email the charity at grim@musclehelp.com

Finally, we're hearing about some fantastic individual and team-based fundraising efforts … as a direct result of the icy weather forcing a postponement, now is the time to seize the opportunity in making a significant fundraising impact for Muscle Dreams in 2011 … bring it on!

All GRIM entries have been deferred to the new date – be sure you retain your event pack, race numbers etc.

Chief Muscle Warrior

Q. How do I sign up for this event ~ A. You can now ONLY sign-up by filling out our charity's official GRIM entry form for SAT 15 JAN 2011 – to receive this, email grim@musclehelp.com

A) Under 'Team Name' enter: MUSCLE WARRIORS
B) Under 'Name of company/org/club' enter: MUSCLE HELP FOUNDATION

DEADLINE – completed forms MUST be posted off to the address detailed on the entry form no later than FRIDAY 7 JANUARY 2011 – late entries will not be accepted.

For the 3rd consecutive year The Muscle Help Foundation (MHF) is now actively recruiting Muscle Warriors to Die Another GRIM-day for Muscle Dreams by taking part in the GRIM Challenge on Saturday 4th December 2010. The goal this year is twofold – to recruit a GRIM-team bigger than last year ie. >100 Muscle Warriors with each participant committing to raise >£150.00pp in sponsorship for Muscle Dreams.

The GRIM Challenge is an 8 mile off-road fun adventure run through forest trails, mud and oh yes … the occasional big murky puddle used to test army vehicles! It's tough in a fun sort of way but we know our growing army of Muscle Warriors™ wouldn't want it any other way!

The GRIM course was used by the James Bond film makers to shoot the infamous hovercraft chase scene in the movie Die Another Day – located near Aldershot in Hants, hence this year's theme!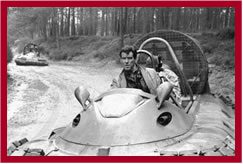 Pictured below, the charity's co-founders Michael McGrath (aka Chief Muscle Warrior) and Miles Peckham (Chairman of Trustees) – read the message from the charity's Chief Muscle Warrior below who said:
"This is going to be our greatest GRIM year ever! It's now time to round up your mates, flex those GRIM muscles and do some good! GRIM is a whole lot of fun. You don't need to be an action man like James Bond or a superhero like Ironman! It's simply about participating and finishing – its also great pub chat and brilliant to know that through your blood, sweat and tears you're making a real difference to the lives of those children who have muscular dystrophy and their families!"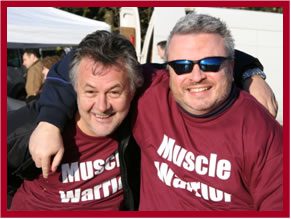 "The past two years have been fantastic. Top tips for this our 3rd year of participation are to bring along a sense of humour and be prepared to Die Another Day for Muscle Dreams – only committed Muscle Warriors need apply!"
Die Another GRIM-Day for Muscle Dreams
The challenge is to run (or walk if you prefer!) over a few hills, wade through a couple of water filled ravines, run over puddle-strewn paths, perhaps crawl under some camouflage netting, jog through some stunning forest trails, get over some large man-made mounds and maybe through a few murky puddles before you cross the finish line! That's it! Expect to get wet!
The charity already has the record for the single biggest group of fundraisers participating in the history of GRIM – this was achieved when nearly 100 Muscle Warriors raised £15,000 in 2009. With your support, we know that this year we will go even further…
Q. What is the entry fee for this year's GRIM event ~ A. £24.00 + £2.00 handling fee per person which includes the charity's newly designed Muscle Warrior t-shirt, refreshments and of course your GRIM survivors race t-shirt.
Q. How do I sign up for this event ~ A. You can now ONLY sign-up by completing the official ENTRY FORM for Saturday 15th Jan 2011 – to receive this, you must email grim@musclehelp.com- IMPORTANT NOTES:
A) Under 'Team Name' enter: MUSCLE WARRIORS
B) Under 'Name of company/org/club' enter: MUSCLE HELP FOUNDATION
Q. What am I being asked to do for the charity ~ A. The charity asks only that each individual team member commits to raising at least £150.00. Our aim is to raise more than last year … we're hoping to raise over £20,000 for Muscle Dreams. If you're a company, the charity would be delighted to discuss an appropriate fundraising strategy as well assist with for example providing copy for intranet sites etc – please contact us for further information or email grim@musclehelp.com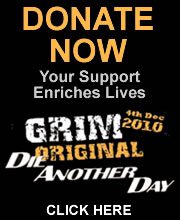 Q. What is the charity doing for me ~ A. The charity will ensure that on the event day all Muscle Warriors will be suitably sustained after the event with hot drinks, food, warmth and shelter. We will provide any additional fundraising guidance required to help with your fundraising efforts be they individual or company. We will email you a Top 10 Online Fundraising Tips guide.
Q. What is muscular dystrophy? ~ A. Muscular dystrophy (MD) is a progressive muscle wasting disease that remains the single biggest genetic killer of children in our world today – in the UK alone, there are some 75,000 people being robbed of their mobility, independence and finally for those with the most severe type, predominantly children, their lives.
Q. What do Muscle Dreams cost? ~ A. These can cost from £500 to £5000 depending on what they are. To see how your fundraising efforts are applied by the charity, please see Fulfilled Muscle Dreams.
From the press office of The Muscle Help Foundation
Registered Charity No. 1096716
Contact:
Lydia Drukarz, Director
Wavelength Public Relations
M. 07977 454180
E. lydia@wavelengthpr.com
Follow Wavelength PR on Twitter
http://twitter.com/WavelengthPR