Covert electric Muscle Dream surprises 8yr-old DMD boy courtesy of Tesla
Posted on

July 26th, 2019

'Mum's the word'! Last Sat 20th July 2019, something wonderful happened, a surprise that a mother had kept 'quiet' from her beautiful 8yr-old son (no mean feat!) for nearly four weeks, a magical Muscle Dream that literally 'unfolded' in front of her son's eyes or should we say the Falcon Wing doors of a terrific 'blue' Model X 6-seater P100D Tesla car!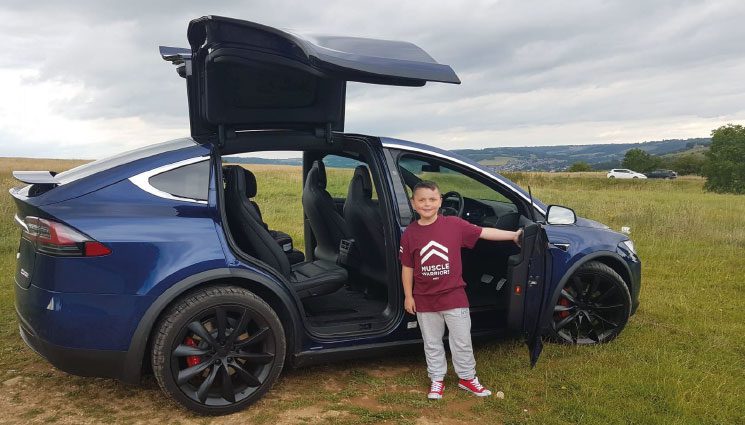 Pictured above: 8yr-old Muscle Dream beneficiary Mitchell, now a fully-fledged Muscle Warrior
An experience that will live long in the memories of those who directly supported and indirectly witnessed what was a 'unique reveal' on the gravel driveway outside the front door of a stunning 5* hotel in the heart of the Cotswolds. The culmination of nearly a month of meticulous planning resulted in not just an exquisite lunch in a private setting overlooking rolling hills, the celebratory 'blue' balloons and the individually hand tied lavender stems precisely laid on 'blue' napkins or the VIP behind-the-scenes tour of the kitchens but… a cherished memory rooted in a powerful shared experience.
Imagine how you would feel if having enjoyed that lunch with your family and having spent some time familiarizing yourself with said 'blue' car unlike anything else on the road, distinctive, whisper-quiet and quick, a seriously cool set of wheels and a sci-fi panoramic windscreen to doors that 'uplift' for you, a car that gives its occupants things that other cars just don't have… and you were 8yrs-old, and your favourite colour was 'blue' and you were obsessed with all things Tesla… and at the end of that amazing day, the keys of the car were handed over to your mum (the nominated driver!)… and guess what, it's yours for the weekend! A priceless reaction, an intake of breath, the expected 'really, you're kidding' observations, a massive grin, high-fives all round… you get the picture!

Pictured above: Mitchell seated in car and his younger brother, 5yr-old Freddie, saluting!
It's true what they say that some memories are more than just heart-warming; they're totally unforgettable, and this was no exception! The idea that a personalised experience, if well executed, can be 'transformational' lies at the heart of everything we strive to achieve; as a small charity rooted in family values, we need support so we can reduce the growing wait-list of nominations and do more.
And sometimes saying thank you to those who have helped feels inadequate – suffice to say that the charity's Muscle Warrior tribal spirit is thriving! The attributes of kindness, generosity and goodwill shown by those who supported this unique Muscle Dream, have enabled a young boy and his family to come together and share a moment in time filled with joy.
What makes it all the more humbling is when that mum whose son is living with a progressive, life-limiting condition called Duchenne muscular dystrophy (DMD) sends several messages back to the charity simply saying that her son had "the best weekend ever", and "you really have given my little family the boost we desperately needed" and "I will forever be grateful", our mission is complete and the gift that gives on giving, our community of supporters… await the next challenge!
Remember, mum's the word : )

Mitchell's mum Keira said in a number of messages:
WHATSAPP MESSAGE 1:
"In Mitchell's own words, his dream has come true. And that having this experience, has meant so much to him! He said this weekend has been the best ever! He also said, that all of you at the charity, and Tesla are so kind, for letting him, keep the car for the weekend! Thank you again, for making it possible, to make his dream come true. You are all completely awesome!!" xx
WHATSAPP MESSAGE 2:
"Thank you so much for Mitchell's goodie bag; it is full of amazing stuff! He is in love with the Tesla hoodie! He said he wished we could keep it (the car) forever!" xx
WHATSAPP MESSAGE 3:
"Hi Michael, we have just got home now. Thank you so much to all of you, for making my son's dream come true! We have all had such a special time! What you do as a charity, and as a family, is totally amazing! I will forever be grateful. A big Muscle Warrior salute, from all of us!" xx
INSTAGRAM MESSAGE posted on the charity's @musclewarrior657 page:
"I can't put into words how grateful I am. You really have given my little family the boost we desperately needed. Also, you have given us such special memories that we will cherish forever!" xx
EMAIL sent to the charity, nine days after her son's Muscle Dream experience:
"We are still feeling amazing, after Mitchell's Muscle Dream! Like I said before, it really gave us a massive boost, of positivity, hope, and inspiration. We loved getting to know you all. Your charity is absolutely amazing! Thank you again, to everyone involved… we couldn't of asked for a better weekend. Everything was more than perfect!" xx
With nearly 1 million views, the charity's dedicated online Flickr Channel is a visual testimony of our charity's work and impact – click HERE to see and share Mitchell's official Tesla Muscle Dream photo album… as we say, that's the #powerof657
The Muscle Help Foundation
Registered Charity NO. 1096716