Co-founder sings for supper in fundraiser
Posted on

November 16th, 2011

Co-founder sings for his supper in London charity fundraiser that raises over £13,000 for The Muscle Help Foundation's 2012 flagship Games Inspired Muscle Dreams programme.

The charity raised over £13,000 at a new-style party event that included an auction in central London on Wednesday 16th November 2011. The charity hosted a record 200 guests at its high profile annual fundraiser, held at The Cumberland Hotel's chic Carbon Bar for the first time.

Supporters dug deep to bid on a bounty of unique gifts and experiences during the auction, presided over by renowned Polar explorer, environmental entrepreneur and MHF supporter Pen Hadow (pictured below).
AUCTION – popular lots included a day with personal trainer Richard Callender (pictured above), star of ITV1's The Biggest Loser and also an Ambassador to the charity, and a Porche driving experience at the world famous Silverstone racing track.
Guests also snapped up Muscle Warrior t-shirts and supped on 657 cocktails – a fruity concoction representing approximately every muscle in the human body.
PHOTOGRAPHY – thank you to the charity's official photographer on the night, long-standing supporter Steve Carter.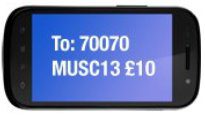 TEXT DONATIONS – MHF unveiled a new text donation service operated through JustTextGiving by Vodafone. The system enables users to make a donation of their choosing by texting the code MUSC13 and an amount of up to £10 to 70070. This innovation was kick-started by the charity's co-founder and Chief Muscle Warrior Michael McGrath, who asked guests to text £10 as he courageously took to the stage to sing two renditions of Robbie Williams' 1997 hit Angels.
McGrath had been secretly rehearsing for the performance with Rachel Shipp who studied music at the Royal Academy of Music in London and who is the Head of Music at the Amwell View School and Specialist Sports College in East Hertfordshire – McGrath reportedly barely hit a bum note.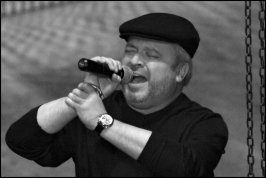 MUSCLE DREAM – finally, McGrath took the time to thank some of the charity's key supporters and, in an emotional address, he recounted the delivery of its latest Muscle Dream that saw 18 year-old Richard Douglas from Northern Ireland fulfil a life-long ambition to watch his beloved Manchester United football team play at Old Trafford.
Richard, who has Duchenne Muscular Dystrophy (DMD), also watched his heroes train at the club's Carrington Road facility and then met the players over a lunch. The club's Foundation organises Dream Days for children and young adults with life-limiting diseases that take place every season working in association with a number of specialist 'wish' charities across the country.
Richard's family including his younger brother Patrick were guests of the Manchester Malmaison. The hotel generously provided a number of memorable touch – points including a 3:4:3 welcome platter of strawberries dipped in chocolate (pictured below) illustrating a pitch formation.
ROCK BAND – an impromptu visit by Irish rock band The Script (pictured below) at the family's private farewell dinner organised by the hotel was another big surprise. "The band was performing at Sir Alex Ferguson's 25th anniversary celebration and generously stopped by for a really good 10 minute natter – Richard and his brother Patrick were gob-smacked!" added McGrath.
Richard's grandfather, Richard Lally, said MHF is a charity "like no other", adding that he will never forget the "warmth and love" shown in making his grandson's Muscle Dream a reality.
"This was our first informal party-style event. With nearly £13,000 raised for our 2012 flagship Games Inspired Muscle Dreams programme, the evening was a success and we're already looking forward to planning next year's event," said the charity's CEO McGrath.
Contact:
Lydia Drukarz, Director
Wavelength Public Relations
M. 07977 454180
E. lydia@wavelengthpr.com
Follow Wavelength PR on Twitter
http://twitter.com/WavelengthPR