Charity wins 'Social Enterprise of the Year' at 2015 Inspiring Herts Awards
Posted on

May 19th, 2015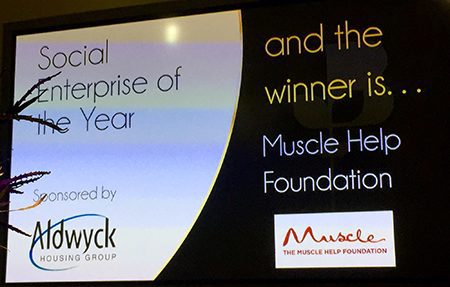 And the winner is… The Muscle Help Foundation
Family charity, the Muscle Help Foundation based in Hertfordshire, wins 'Social Enterprise of the Year' at the prestigious 2015 Inspiring Hertfordshire Awards.
The charity's CEO Michael McGrath was surprised and delighted to win the award on Thursday night 14 May – the glittering black tie gala dinner and awards ceremony was attended by over 350 Hertfordshire businessmen and women.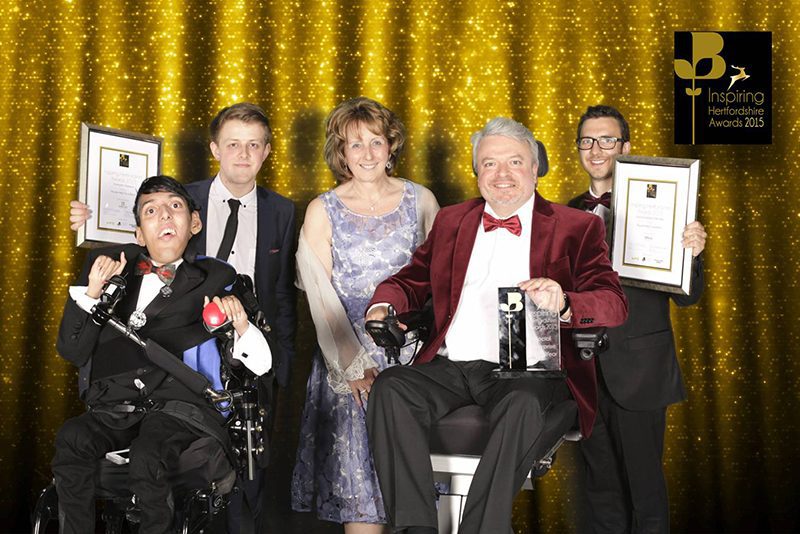 Pictured above (left to right) some of the attendees on MHF's table: past Muscle Dream beneficiary Sulaiman Khan, Muscle Warrior fundraiser Danny Pallett, MHF Trustee Sue McGrath, CEO Michael McGrath and Ryan Tym, MHF's brand guardian and Founder & Director of London-based brand and design agency Lantern.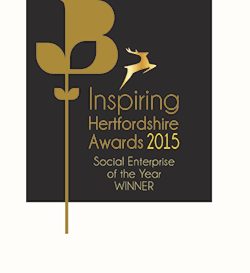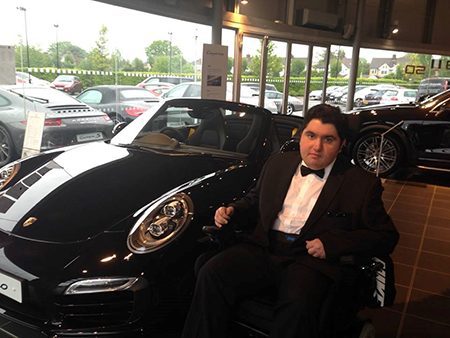 Pictured above: Matin Nabi one of MHF's guests on the night; Matin is the goalkeeper for the Muscle Warriors Powerchair Football Club who have recently won the National Powerchair Football Championships and as a result, have been promoted up into the Premiership – click here to read more about this exciting news.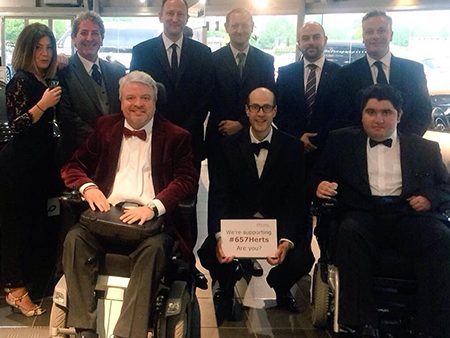 Pictured above: the Porsche Centre Hatfield management team led by Centre Principal Mike Murphy (centre, holding the #657Herts sign) with Matin Nabi and Michael McGrath.
The awards took place at the state-of-the-art Porsche Centre Hatfield, one of the headline sponsors that also included LV= and headline media partner Hertfordshire Mercury. Other Award Sponsors included Ocado, Veolia and Aldwyck Housing Association. Patrons of the Hertfordshire Chamber of Commerce include Ashbourne Insurance, PwC, Affinity Water and Pitney Bowes.
Launched by the Herts Chamber in 2012, these awards focus on and celebrate the expertise, achievements and outstanding contribution that businesses and individuals make.
The response was phenomenal and now into its fourth year, Inspiring Hertfordshire 2015 was bigger than ever in enabling Hertfordshire businesses to showcase their performance and achievements to clients and customers, suppliers, business alliances and to all of the Hertfordshire business community.
It was a doubly exciting night for Michael and MHF as he was also shortlisted for the 'Diversity Champion Award for Charity' by EiDA (Excellence in Diversity Awards), which took place at The Midlands Hotel in Manchester … on the same night! Whilst MHF didn't win, the charity was thrilled to have been shortlisted for this prestigious award by the EIDA, in association with the National Diversity Awards organisation that honours the work of inclusive employers and unsung diversity champions across the UK.
The charity was however represented on the night by Amanda Turner (pictured below), the mother of a past Muscle Dream beneficiary who lives near Manchester.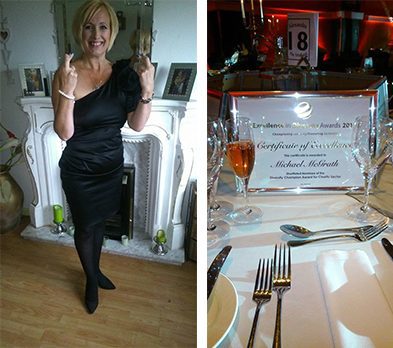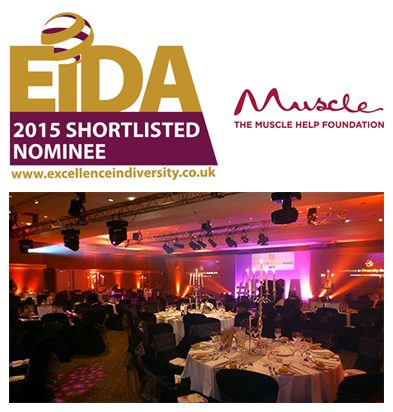 J.P Morgan, the Guardian, ITV, PWC, Thomson Reuters, CIPD and the Co-operative were just some of the sponsors supporting a sky fall of inclusive talent for the EID awards: 'Diversity Champions', inclusive employers and pioneering campaigns from all aspects of diversity were shortlisted for the 2015 ceremony. Hundreds of nominations from across the country paid tribute to inspirational individuals and diverse companies nationwide that have showcased their incredible achievements to the equality agenda.
Diagnosed with MD at 18yrs, McGrath who is the first and currently only disabled person to have successfully reached both the North and South Poles and is a sought after inspirational speaker said: "Winning the 2015 Inspiring Hertfordshire 'Social Enterprise of the Year' award and being shortlisted for the EiDA 'Diversity Champion Award for Charity' all on the same night, is truly humbling."
"Thank you to both the Hertfordshire Chamber of Commerce and to the EiDA organisation for recognising our efforts. We're delighted that MHF's work has been acknowledged in this way. This awareness will I hope enable the charity to reach more children and young people with muscular dystrophy, the singular focus of our recently launched #powerof657 campaign which aims to deliver 657 'Muscle Dreams', one for each muscle in the human body," added McGrath.
"It's my belief that disabled people in society today, especially children and young people, want to be overwhelmed by ordinariness, want to be valued regardless of circumstance or ability, want to fully participate and positively contribute. MHF's tagline 'STRONGER TOGETHER' resonates: as a fearless champion of inclusion, celebrating difference is something that lies at the very heart of our work and our impact – there's still so much to do."
"If you are reading this Latest News update and you are inspired and want to get involved in our work, or perhaps you would like to fundraise for our cause or maybe your company is looking to adopt a worthy charity, please contact us as we need all the help we can get," concluded McGrath.
Contact:
Lydia Drukarz, Director
Wavelength Public Relations
M. 07977 454180
E. lydia@wavelengthpr.com
Follow Wavelength PR on Twitter
http://twitter.com/WavelengthPR