Charity wins public vote securing People's Projects lottery funding in partnership with the Big Lottery, National Lottery and ITV
Posted on

March 18th, 2016

The Muscle Help Foundation (MHF) is thrilled to announce that it has won £45,900 of lottery funding from the People's Projects, a partnership with the Big Lottery Fund, National Lottery and ITV. MHF's project is called 'Inspiring Hearts, Engaging Minds'.

The People's Projects, in partnership with the Big Lottery Fund, the National Lottery and ITV, has awarded over £3m of lottery funding to 95 organisations; detailed projects were submitted at the back-end of 2015.
A mini film (see below) was made of the 5 shortlisted entries in each region and these were then broadcast across the relevant ITV News regions w/c 29th Feb. The public was encouraged to vote in each region for the organisation they believed most deserved to receive up to £50,000 in project funding.
Although the competition from the other 4 shortlisted charities in the Anglia West region was extremely strong, it was announced after the ITV Anglia evening news on Wed 16th March that the MHF had been selected due to the highest number of votes in the region and has therefore won funding of £45,900 for its 'Inspiring Hearts, Engaging Minds' project.
Michael McGrath, MHF's CEO himself diagnosed with MD at 18yrs, said:
"We are thrilled that the charity has won this funding. Muscletastic thanks you to all those who voted for us; from family members, friends, volunteers, suppliers and corporate partners to those members of the public who perhaps don't know about our work and of course to our beneficiary families across the country for whom the charity exists: thank you one and all.
The funding will help us deliver more Muscle Dreams, but we also want to create and pilot an innovative 'group' work-placement opportunity in helping young adults with MD explore a pathway to work. Linking individual aspirations, skills and talents, the goal is to develop a unique experience that's different to 'conventional' work placement schemes – the location will have a WOW-factor, somewhere 'cool', 'aspirational' and 'enterprising'! Winning this award means the world! Thank you to everyone who used their voting muscles – you've made a difference!"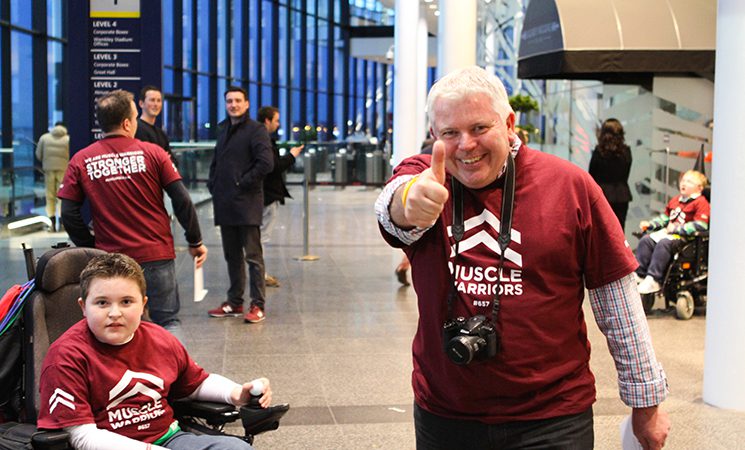 John Kelly (pictured above giving thumbs-up), father of 13-year-old Tom Kelly who has Duchenne Muscular Dystrophy (pictured below with England and Saracens rugby star Billy Vunipola), who's Muscle Dream in March 2014 involved a very special 'father and son' rugby experience at Wembley Stadium said:
"I am overwhelmed and so grateful to all of the people that have taken their time to vote for our amazing charity. I'd like to thank ITV and all their viewers for effectively changing and improving the lives of young people like my son that will benefit from Michael's continued hard work. This award means far more to so many people than I could possibly explain, but please accept this as a massive heartfelt thank you."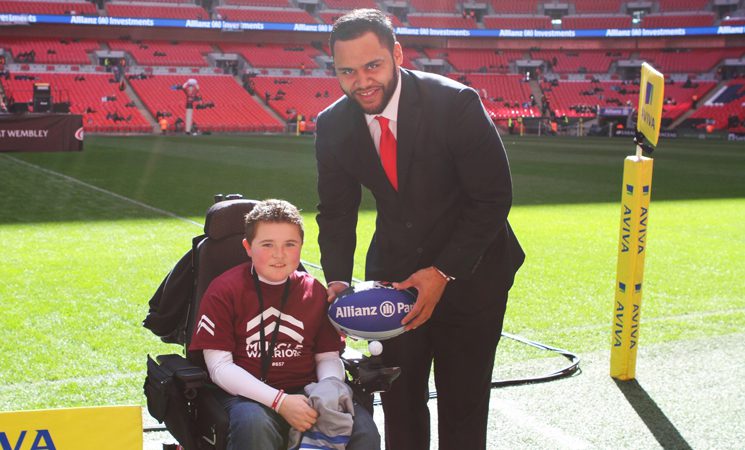 MHF is a multi-award winning, niche family charity delivering life-changing, highly personalised experiences, known as 'Muscle Dreams', for children and young people in the UK with Muscular Dystrophy (MD) and allied neuromuscular conditions.
The charity has one singular aim to deliver 657 Muscle Dreams, that's one life-changing experience for each muscle in the human body. To date, 208 have been fulfilled for some incredibly deserving young people; that's the #powerof657.
Contact:
Lydia Drukarz, Director
Wavelength Public Relations
M. 07977 454180
E. lydia@wavelengthpr.com
Follow Wavelength PR on Twitter
http://twitter.com/WavelengthPR