Charity CEO wins 'Unsung Hero' Award at 2015 Hertfordshire Mercury & Observer Community Awards
Posted on

November 24th, 2015

Family charity, the Muscle Help Foundation is delighted to announce that it's CEO Michael McGrath, won the 'Unsung Hero' award at the seventh annual Hertfordshire Mercury and Observer Community Awards on Monday 23rd November 2015 at Hanbury Manor in Ware.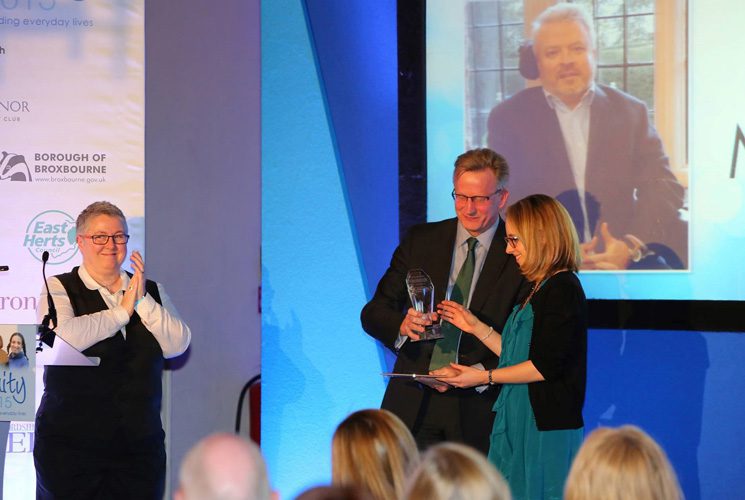 Pictured above: Julie Palmer, Editor, Hertfordshire Mercury and Senior Editor for Herts & Essex Newspapers announces the winner of the 2015 Unsung Hero award sponsored by Riversmead Housing Association. Paul Huckstep, Executive Director presented the award to Gemma McGrath.
The prestigious awards honoured winners across the Hertfordshire and Essex region, committed to making a difference. There were seven different categories, from 'Unsung Hero' to 'Volunteer of the Year' and 'Young Achiever of the Year'.
Buntingford resident and inspirational speaker Michael McGrath, received the 'Unsung Hero' award for his tireless work with the Muscle Help Foundation, which delivers transformational experiences called 'Muscle Dreams' for children and young people across the UK with muscular dystrophy and allied neuromuscular conditions.
Michael, who was himself diagnosed with the muscle wasting disease at the age of 18 and is the first disabled person to have reached both the North and South Poles, was unable to attend the evening as he is currently enjoying a belated birthday cruise around the Canary Islands.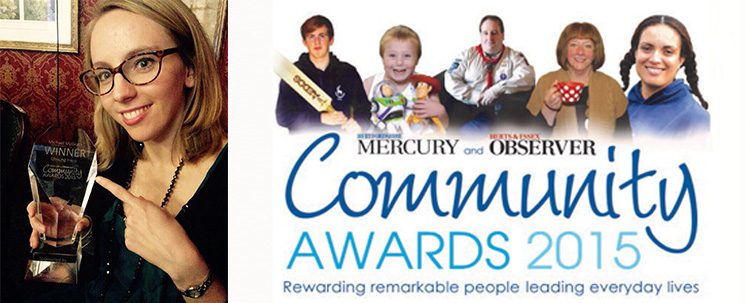 Pictured above: Michael's proud daughter Gemma took to the stage to collect the trophy on behalf of her father. Accepting the award, she said:
"I am so proud that all of his hard work and devotion to the charity and its many beneficiaries over the years has been recognised and acknowledged in this way."
"He gives everything to the charity, often working long hours and pursuing every possible contact to try and make the charity's beneficiaries' Muscle Dreams a reality, as well as running the charity's annual Muscle Dreams driving, sailing and flying programmes. This definitely makes it all worthwhile!"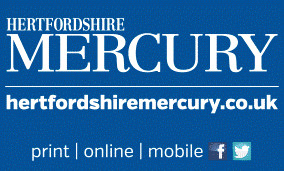 Mercury and Observer Community Awards 2015
The evening's winners
Click HERE to read the above news article published online.
Follow the Herts Mercury on Twitter: @HertsMercury
Contact:
Lydia Drukarz, Director
Wavelength Public Relations
M. 07977 454180
E. lydia@wavelengthpr.com
Follow Wavelength PR on Twitter
http://twitter.com/WavelengthPR