Cavendish School Invites Disabled Explorer
Posted on

December 18th, 2007

The Cavendish School at Hemel Hempstead in Hertfordshire welcomed the only disabled person in the world to have reached both North and South Poles on Tuesday 18th December 2007. A member of the Dacorum School Sports Partnership, Cavendish provides opportunities for students of all abilities within the 11 – 18 age range to achieve high standards in a firm and caring atmosphere.

Michael McGrath was the guest of honour at this designated DfES specialist sports colleges' 2007 Awards Presentation Evening for KS4 and KS5 pupils. Introduced by the schools Head Boy (Sean Garland) and Head Girl (Lauren Forder), he delivered an inspirational forty-minute speech titled 'Achievement in Action' that touched on a variety of themes including striving for excellence, life isn't a dress rehearsal and confronting challenges.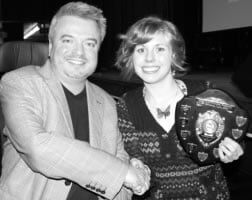 The speech culminated with a short film called Reach Beyond showing how McGrath, who suffers from muscular dystrophy, reached the Poles, to an audience of some 250 students, parents and teachers. He presented the prizes and certificates of achievement for the evening including a number of trophies and shields. Ian Sudbery, the schools Director of Post 16 Learning said "All the feedback from the evening has been overwhelmingly positive." Pictured is Alex Rowell, the A2 Achievement Award winner.
Dr. Stephen Pam (Headteacher) said "The man's brilliant and his presentation was just spellbinding. He talked us through what it was like for him in Antarctica and how issues are only problems that can be overcome. He focused his talk on the need to learn from mistakes, to be able to go forward and the importance of self-belief and a strong team. Everyone really enjoyed it – it was a great evening." (Source: Hemel Gazette Newspaper, 26th December 2007)

The official school weekly newsletter called The Cavendish Contact which depicts the schools crest (pictured right), distributed to all students included an editorial piece in the December 20th edition in which the Headteacher Dr Pam said: "I was delighted to welcome to Cavendish a man who inspires children, young adults and older adults alike, with hope courage and strength. Michael's speech helped students, parents and staff alike to realise that they can achieve their dreams and aspirations. This positive message is an ethos that we all endeavour to subscribe to at The Cavendish School."
Michael McGrath is an established motivational speaker, increasingly in demand by schools across the UK to share his polar experiences, learnings and life insights. By exploring the opportunities presented by diversity and, specifically disability, pupils' horizons are broadened and moral, social and cultural beliefs are positively influenced. His interactive talks aim to underpin some of the elements of the Citizenship and Personal Health and Social Education (PHSE) curriculum, whilst providing a fun and engaging platform that educates, reinvigorates and motivates.
"I've found that my experiences have enriched the horizons of many of the children to whom I have spoken, giving them more knowledge of polar places as well as helping them to realise their own aspirations. In valuing difference and by inspiring action, I explore the metaphor of challenge, providing a catalyst for pupils to connect with their own inner potential" said McGrath.
In helping to foster a pupil's sense of social responsibility, his talks provide schools and communities with an opportunity to engage with his charity's Muscle Dreams programme that provide unforgettable experiences for children and young people with muscular dystrophy to live a dream or perhaps fulfil a cherished ambition that someone simply cannot afford. Muscle Dreams cost from £250 to £5000 depending on what they are and they also provide an opportunity to educate and generate awareness about the disease muscular dystrophy. Schools that agree to fundraise for this initiative will be able to directly see how their support is used, whether it be for a child meeting a famous TV celebrity chef or the school run of a lifetime
'SPELLBINDING': from left, award winner Matthew Calverley, head of sixth form Ian Sudbery, Michael McGrath, head boy Sean Garland, head girl Lauren Forder with Headteacher Dr Stephen Pam.
Editorial Title: Disabled explorer provides inspiration to students
Picture Source: Hemel Gazette Newspaper
Published Date: 26 December 2007
Location: Hemel Hempstead, Hertfordshire
Cavendish School
https://www.cavendishschool.co.uk/
Hemel Gazette Newspaper
https://www.hemeltoday.co.uk/