Big 5 Kayak Challenge
Posted on

February 1st, 2009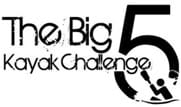 The Big 5 Kayak Challenge has arrived and The Muscular Help Foundation (MHF) is delighted to have been chosen by this team of experienced paddlers who are aiming to raise £10,000 for the charity's Muscle Dreams programme.
"We are thrilled to be working closely with such an exciting project and with talented people who are not only passionate about their sport but also in wanting to make a real difference through our charity's Muscle Dreams programme for children and young people with muscular dystrophy," said the charity's co-founder Michael McGrath.
"The challenge is about 5 very different kayaking expeditions using their muscles to get them through some of the most challenging water on earth. The team have already successfully completed the first leg of the Big 5 Kayak Challenge which saw their paddling muscles being tested on an 85 mile circumnavigation around the Isle of Wight.
The 2nd leg will see them kayaking some 183 miles departing at 7am on Saturday 7th February from the source of the River Thames (Cricklade), swapping into sea kayaks at Richmond and then paddling to the sea (Tilbury), taking about 33 hours from start to finish.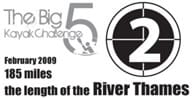 We're urging everyone who lives near or alongside the River Thames, especially in and around the Richmond area, to come along and show their support by giving a big Muscle Salute as they set-off to the sea – this is a visible symbol of hope, courage and inner strength for the 60000 muscular dystrophy sufferers in the UK," added McGrath.
Team Leader and Big 5 Kayak Challenge Project Director Richard Harpham said, "We are aiming to raise £25,000 for The Muscular Help Foundation (MHF) with funds going to the charity's Muscle Dreams programme designed to give children and young people with muscular dystrophy the opportunity to live a dream, or perhaps fulfil a cherished ambition. A Muscle Dream can cost anywhere between £250 and £5000, so every single penny counts!
I met Michael McGrath in September last year at one of the University of Bedfordshire's Knowledge Network events where he had been invited as the evening's speaker. After listening to his inspirational story, hearing about some of his life-learnings and getting more of an insight into his ambitions to scale up the work of MHF, I wanted to help. We've subsequently met and there is a like-minded spirit and steely determination to make things happen. The rest as they say is history," said Richard.
Michael is himself afflicted by muscular dystrophy, the single biggest genetic killer of children in our world today. It is a relentless and unforgiving disease, robbing sufferers of their mobility, independence and finally for those with the most severe form, predominantly children, their lives.
Since being diagnosed over 20 years ago, he is now no longer able to walk as a result of muscle deterioration. He uses a powered wheelchair which he lightheartedly refers to as his 'chariot' to travel extensively around the UK and overseas as a sought after motivational speaker. Despite his physical limitations, Michael walked into the history books in January 2004 by becoming the only disabled person in the world to have reached both the North and South Poles.
The Big 5 Kayak Challenge team have been training hard on both the River Great Ouse in Bedford and also on the River Thames past landmarks such as The Houses of Parliament, Greenwich Observatory and Tower Bridge. After the River Thames challenge is complete, the team will paddle across the English Channel in April and then in May, they will depart from Lands End across to the Scilly Isles where they will arrive during the famous Skiff Racing Event.
Finally, in July the 5th leg of the Big 5 Kayak Challenge will see the team head off to British Columbia to paddle almost 1000 miles from Vancouver Island in Canada up to Juneau in Alaska, some of the way accompanied by Orcas whilst being mindful of the occasional bear when on dry land. This will be the toughest leg both in terms of being self-sufficient (food and equipment) and the paddling distances involved (approximately 35 miles a day) in remote wilderness.
The Big 5 Kayak Challenge team is made up of a group of experienced paddlers:
– David Gordon (a former international pole-vaulter)
– Richard Harpham (founder & MD of Majorsporty.com)
– Helen Reeves (world class paddler & Olympic Slalom Medalist)
– Tamsin Green (World No. 2 Surf Kayaker)
– Dan Green (GB Surf Kayak Team)
– Caoimhe Ní Chuinn (Captain of Ireland's Canoe Polo Team)
Contact:
Lydia Drukarz, Director
Wavelength Public Relations
M. 07977 454180
E. lydia@wavelengthpr.com
Follow Wavelength PR on Twitter
http://twitter.com/WavelengthPR