Beneficiary Case Study: Sulaiman
Beneficiary Case Study: 9
Beneficiary Name: Sulaiman
Muscle Dream Number: 119th
Sulaiman R. Khan's story has a significantly remarkable connection with The Muscle Help Foundation (MHF) charity. Diagnosed with
Merosin-Deficient Congenital Muscular Dystrophy (MDC1A), Sulaiman has not only been the recipient of a Muscle Dream intervention (more on that below), but he is also an MHF Ambassador and a fully-fledged Muscle Warrior, continuing to work with the charity to help it achieve its purpose.
When Sulaiman was diagnosed with Muscular Dystrophy (MD) as a baby, the doctors told his parents he was unlikely to live past the age of five. Today, aged 38yrs, he has travelled the world with his parents giving him beautiful experiences and adventures. He also has a degree (more on that below) and runs his own business. Sulaiman is the Founder and Chief Radical Officer of ThisAbility Limited, a successful Disability-led (and owned) justice business and a Certified B Corporation.
Sulaiman first heard of the charity in 2012 through an advert on a Muscular Dystrophy UK network for the Games Inspired Muscle Dreams Programme experience and thought it looked cool.
"I think people were meant to apply on behalf of someone else, but I like writing, so I submitted my own application – it didn't say I couldn't! I then received a call that changed my life. It was from Michael to say congratulations that I had been selected to participate in this magical Muscle Dream. Little did I know what lay ahead regarding the positive experience I was about to have, the opportunities it would give me, and the amazing friends I was about to make," said Sulaiman.

SOURCE: Sulaiman Khan, MHF Ambassador
Powering through grief…
However, just three days before the Muscle Dreams event, Sulaiman's maternal grandad sadly passed away. It was a terrible and heartbreaking loss, and he wasn't sure he would be strong enough to attend. But, with the support of his parents and some gentle encouragement, he powered through the grief.
"I'm glad my parents pushed me to get involved, as I met so many incredible people that I'm still close friends with today. The love, good vibes, and magnificent memories were the perfect healing I needed. During a period of such deep grief, to be surrounded by people filled with so much passion, enthusiasm and care for those with MD was genuinely life changing. I haven't looked back."

"There was so much love and joy over those wonderful two days. As well as meeting new friends, who are still friends today, we got to attend the Paralympic Swimming and Wheelchair Rugby, which were amazing!
And someone outside of the charity even gave me opportunity see the 100m final with Johnny Peacock the same evening too. It was an incredibly immersive experience being in the presence of the Paralympians who are at the top of their game and living their best lives through sport, and the experience was more extraordinary thanks to the MHF charity.
That dedication and positivity was immense and it was an electric atmosphere to be part of. For all of us attending with the charity, we were treated as real people," added Sulaiman.
Commenting on the longer-term impact of his Muscle Dream experience, Sulaiman says:
"Attending the Games Inspired Muscle Dream Programme experience showed me that this was a charity that truly cares about my existence, my life, and making sure I, and others living with MD, have access to memorable experiences.
Just because I have a rare condition doesn't mean I am not entitled to enjoy joyful moments in time like anyone else – that's what makes MHF such an incredible charity. They really do care.
The experiences that they offer not only change the lives of the beneficiary, but also that of the family and carers as well. There are no words to say how profoundly positive the impact of this charity is," said Sulaiman.
After that first experience, Sulaiman remained in regular contact with the charity's work, often attending other Muscle Dream experiences as well as various fundraising events run by the charity including a number at the RAC in Pall Mall, London. His ongoing interest in the charity's mission was clear to see, so when he was asked by MHF's CEO Michael McGrath if he would be interested in becoming an ambassador, the decision wasn't a difficult one to make. It was a resounding 'yes!'

"Being an MHF ambassador is a real privilege. The ethos of the charity very much aligns with my own values. In the same year (2012), when I first received support from MHF, I graduated with a BA (Honours) degree in Advertising and Brand Communication. I was so proud, but it was a huge battle to take my degree and secure work; it took me three years to secure my first job. In what was already a very challenging industry to secure work in, there were even more challenges for a Disabled creative like me.
As a wholeheartedly Disabled man, the struggle to find work and acceptance as someone who wanted to work and contribute to society left me feeling lacking in confidence and deflated. I did find a job, but the barriers were still there, and I found myself out of work again after eight months in July 2016, as I decided to leave that workplace due to inaccessibility and toxicity. This left me re-evaluating everything as I found my usually unfaltering enthusiasm was somewhat dented by this point."
The charity's influence has spurred me on…
"However, although today I'm no longer an MHF ambassador due to greater work and life commitments, the charity's influence spurred me on. Being around and working with the lovely people at MHF has taught me that it's okay not to do things the traditional way, to find my own path and to be comfortable with what I'm doing and who I am.
The charity has helped me see that scary predictions can be wrong, and even if they're not wrong, there's a way to make an impact and help others along life's adventures. The future is as bright as I want it to be, and we all have the right and ability to be bold, wild, and fearless along the way.
"So, I put that ethos into action by setting up my own business ThisAbility Limited. We work tirelessly to ignite, invest in, and amplify Disabled creativity across the world for a liberated tomorrow for Disabled people. Our business may be limited by name, but we are unlimited by imagination, and the future (for us) is bright.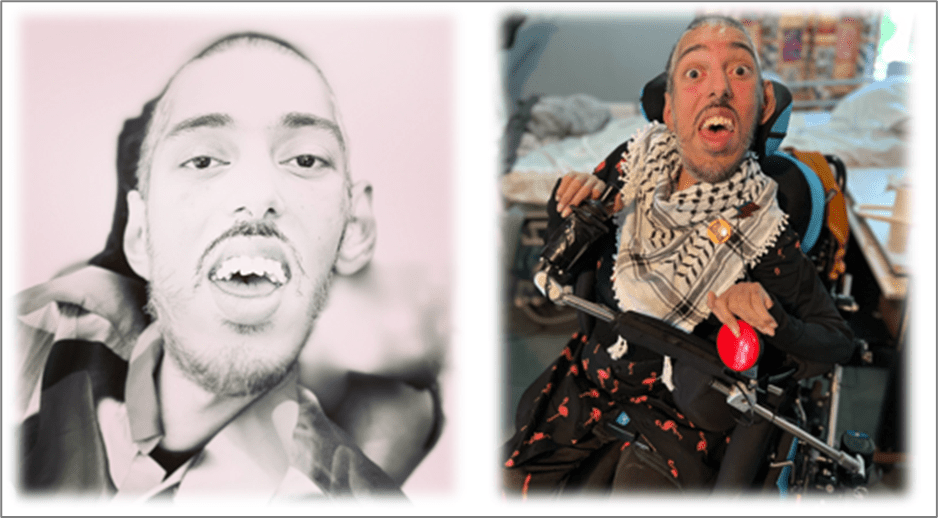 Sulaiman goes on to say:
The business supports and sustains me to create value and impact. I don't have time to wait; the traditional workplace still isn't ready for me, so I have taken control and done it my way, and I put a lot of that down to the MHF, which empowered me to just go for it and trust in myself.
"These experiences or interventions that the charity delivers can help children, young people and young adults to change their lives and allow them to thrive. It's magical what MHF does, and it is completely different from most charities out there who don't look at the present, the here and now – instead, they look at finding a cure. Many people don't want a cure, we simply want a good life today and to be able to participate in society without barriers," said Sulaiman.
Contact the charity HERE should you have any further questions.