Beneficiary Case Study: Jimoh
Beneficiary Case Study: 4
Beneficiary Name: Jimoh (aka Junior)
Muscle Dream Number: 217th
Jimoh (aka Junior) has been in love with speed from a very young age. He was 23 when along with his family and two carers, he took part in the charity's flagship Porsche Muscle Dreams Driving Experience Programme. He had heard about the Muscle Help Foundation (MHF) charity via the Young Avengers Group at Together for Short Lives, the leading UK charity for all children with life-threatening and life-limiting conditions.
Jimoh was diagnosed with Neurological Muscular Dystrophy following a life changing incident back in June 2016 – after stepping in to help someone who was being attacked, he was badly injured. Junior tried to carry on as normal not realising how much damage the attack had caused. After several months of struggling to carry out normal daily activities, he was subsequently diagnosed with Muscular Dystrophy.
From in one moment in time being a very fit man, to being a quadriplegic with a badly damaged spinal cord and ventilator dependent, Jimoh was essentially left unable to move and struggling to breath – against all the odds and thanks to his positive mindset, his can-do attitude and the support shown to him by St Christopher's Hospice, he has overcome what doctors told him he wouldn't be able to do.
Jimoh was not going to let Muscular Dystrophy stop him from realising his dream of racing in a sports car though, so when he found out that he had been selected to take part in the MHF's Porsche Muscle Dreams Driving Experience Programme, it was the best news ever!
Talking about his Porsche Muscle Dream programme experience, Jimoh said:
"All I ever wanted to do was just relax in a normal car but was told I couldn't because it's not safe for me. I have encountered many obstacles in my life but have never let them stop me."
"The whole day was amazing. Now I tell and show people they have no right to tell me I can't sit in a normal car. In fact, if I can be comfortable in a Porsche 911 at Silverstone, speeding to the max with my hair blowing back as the wind brushes across my face, I can go in any normal vehicle and drive like a normal person. Once again that was another goal achieved, thanks to you at the charity.
"I want to help raise awareness of the work of the charity and let the world know that disability doesn't rule anyone out of anything, especially if we believe we can achieve more in life. My experience was the best – thank you from the bottom of my heart."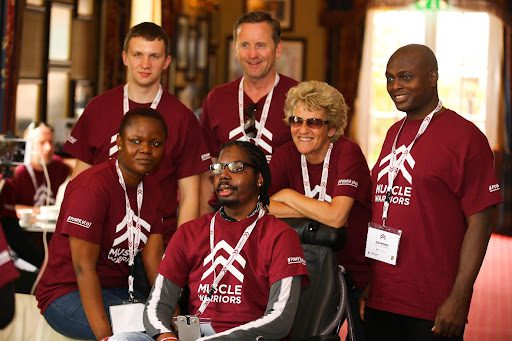 Check out the charity's 2016 Porsche Programme Flickr Photo Album HERE.
Contact the charity HERE should you have any further questions.