Beneficiary Case Study: Amandeep
Beneficiary Case Study: 1
Beneficiary Name: Amandeep
Muscle Dream Number: 425th
Budding pilot, 20-year-old Amandeep from Glasgow, who lives with a severe type of muscular dystrophy, was the Muscle Help Foundation's 425th recipient of a Muscle Dream experience. He received the surprise of a lifetime from the charity after his condition thwarted his dreams taking to the skies.
Amandeep's lifelong ambition has been to become a pilot but sadly, his condition has stopped him from achieving his dream. His story first came to the attention of the Muscle Help Foundation through Dr Sheonad Laidlaw, Specialty Doctor for the Transition and Young Adults Service at The Prince & Princess of Wales Hospice in Glasgow, who nominated Amandeep for the Muscle Help's Foundation's Muscle Dreams programme, which offers personalised virtual experiences to those living with muscular dystrophy. Amandeep has Duchenne Muscular Dystrophy (DMD) which is one of the most severe and common forms of the muscle-wasting condition which usually affects boys.
The charity worked tirelessly to make Amandeep's dream a reality and worked closely with Dr Laidlaw, the RAF Benevolent Fund and the Prince and Princess of Wales Hospice, to create a very special Muscle Dreams experience.
In March 2022, streamed live into the hospice, Amandeep got to virtually experience the life of a pilot by meeting the Red Arrow's longest standing pilot and current Blades pilot, Mike Ling, over Zoom and hearing about his 10-year career with the Red Arrows. Not only did Amandeep get to speak to Mike, he was also presented with a gift box including his own set of wings, generously donated by Gavin Davey, Area Director for Scotland at the RAF Benevolent Fund and former RAF helicopter pilot.
Michael McGrath, founder and CEO of the Muscle Help Foundation, was determined to make Amandeep's 'life goal' come true. He says:
"When Amandeep's Muscle Dream nomination arrived in the charity's inbox, I was struck by two things. Firstly, how the cruelty of his debilitating, life-limiting condition has robbed him of his dream of being an RAF pilot, and secondly, his passion and love of flying; to 'earn his wings' was a life goal and I knew we had to make that a reality."
Dr Sheonad Laidlaw who nominated Amandeep for the Muscle Dreams experience says:
"The Young Adult Service at The Prince and Princess of Wales Hospice has supported Amandeep for a number of years, but since the beginning of the pandemic Amandeep has shielded and this support has been needed more than ever.
During the pandemic we had to change our way of working and we put in place more regular catch ups with our young adults and with the right safety measures in place we had monthly home visits. It was during this time that I learned more about his dreams and aspirations, and this included his childhood dream to be a RAF pilot."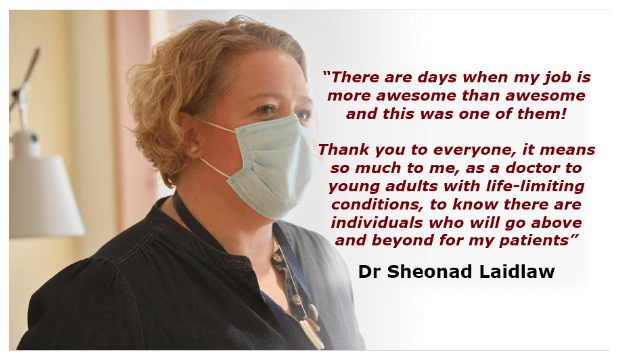 When asked about how Dr Sheonad Laidlaw came to nominate Amandeep for a Muscle Dream experience she says:
"I was involved with a number of muscular dystrophy charities, and while at an event I saw Michael and heard him talk about the work of his charity in delivering wish fulfilment experiences for young people living with MD. With his 21st birthday approaching I wanted to nominate Amandeep for a Muscle Dream as a celebration of all that he achieves daily and to remind him that there is a vast world outside his room waiting for him to explore.
"So, I just decided it was worth a try and filled out the form. In a matter of days Michael called me personally. I couldn't believe it – here was the Chief Executive of the charity contacting me to say he was sure something could be done.
"I didn't tell Amandeep about nominating him, as I didn't want to raise his hopes just in case it didn't end up happening. But I needn't have worried. The day itself was just wonderful and Amandeep was so thrilled to receive his wings and speak to Mike all about his time with the Red Arrows live on-screen.
"In my home visits following the experience, the enormity of the experience and the long-term impact it has had is clear to see. There are Red Arrows pictures up on the wall, the wings are on display and Amandeep is still full of excitement. He regularly reminds me that he has now got his wings. He approaches life with such maturity and enthusiasm and the whole experience has given him courage, hope, more confidence and empowered him to believe in himself. This was more than just the experience on the day – it has delivered long term positive impacts on Amandeep's wellbeing."
Reflecting on the virtual Muscle Dream experience day, Dr Laidlaw says:
"There are days when my job is completely awesome, and this was one of them! Thank you to everyone, it means so much to me, as a doctor to young adults with life limiting conditions, to know there are charities like The Muscle Help Foundation who will go above and beyond for my patients."
Commenting on his unique Muscle Dream experience, Amandeep (21) said:
"It was an amazing experience and a privilege to meet everyone.
I felt honoured to receive the wings. I have got them framed and up on my wall so that I can see them every day.
The whole experience made me feel very happy and honoured and has given me lasting memories that are very special. It was my dream to be a pilot ever since I was little.
"The Muscle Help Foundation does such great work and the charity made me feel like I am being treated like a person, rather than someone who is disabled."
Read more about Amandeep's unique Muscle Dream HERE.
Check out Amandeep's dedicated online Flickr Photo Album HERE.
Contact the charity HERE should you have any further questions.