Balder F290 Enables Man & Machine to Reach Beyond
Posted on

April 21st, 2007
Self-belief, preparation, focus and accountability are the principles Michael McGrath shares with the growing team at Balder UK. With over 25 years of listening and being inspired by their customers and their disability needs, Balder UK has developed some of the worlds most advanced power chairs – enabling one man to continue on his mission to inspire action in those with whom he connects with, by unlocking human potential, changing behaviours and enhancing performance.
As a high profile customer, positive media commentator, role model and figurehead to disabled people in the United Kingdom, Michael McGrath's Balder F290 power chair plays a vital role in enabling him to live his life to the max; this he does on a daily basis, travelling around the UK and overseas speaking at conferences in delivering inspired motivational presentations, meeting clients as part of his consultancy business, giving talks at schools and making appearances. It is Balder UK's belief that their customers, like McGrath, should have every opportunity to enjoy as complete and fulfilling a life as possible.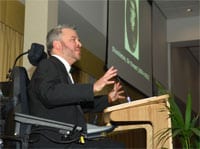 "Without my Balder power chair, I would not be able to do what it is I have to do; it is one of the world's most advanced power chairs, equipment that I totally depend on when travelling either in this country or overseas. At a cost of nearly £20,000, I've developed a trusting relationship with it; however odd that might seem to someone reading this news piece who has the ability to stand, walk, jump or run, put simply my 'chariot' has enabled me to re-discover my lost independence and by default, given me my mobility, independence and freedom back", said McGrath.
"At the centre of this 'trusting relationship' is an understanding of its functionality but also recognising what I see as my responsibility in communicating with for example airlines its dimensions, weight, battery certification information and how a carrier should handle the chair from the moment it leaves me, through to the chair being loaded on board the aircraft, unloaded at its destination and eventually being reunited with its owner. I've produced a detailed information fact-sheet which I discuss with the airlines Customer Care or Special Assistance Department – as a passenger with mobility needs requiring full lift-on and lift-off assistance, I'm looking for what all travellers (business or otherwise) seek; a hassle-free departure and arrival experience. However, as always, the devils in the detail".
McGrath concludes by adding "In carrying out my own due diligence prior to booking flights, there's still unfortunately considerable room for improvement by some airlines who despite having extensive policy and information on their websites lack the one fundamental ingredient required to deliver a good passenger experience, that of a little something called customer service".
About Balder UK Limited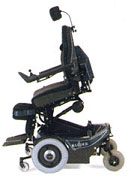 Based in Hampshire, Balder supply power chairs and assistive technology for drivers across the UK. Following 10 successful years supplying the Finesse and Liberty range of power chairs and more recently the ATD driving system, the company has now become part of the ETAC Healthcare Group, founded in 1972 with a turnover in 2006 of EUR 88 million
www.balder.co.uk
ETAC's Vision

"Everyone should be able to live a free and independent life and pursue their dreams regardless of any physical circumstances. ETAC to be the first you think of when you're in need of a product, service or knowledge of technical aids, no matter if you are a user or distributor."
Contact:
Lydia Drukarz, Director
Wavelength Public Relations
M. 07977 454180
E. lydia@wavelengthpr.com
Follow Wavelength PR on Twitter
http://twitter.com/WavelengthPR