Twickenham Rugby Triumph for Muscle Warriors Joe, George & Dan
Posted on

March 30th, 2015

The Muscle Help Foundation received a record number of nominations for its 2015 Rugby Muscle Dream Programme that took place over two days on 20-21 March hosted by the Marriott London Twickenham Hotel.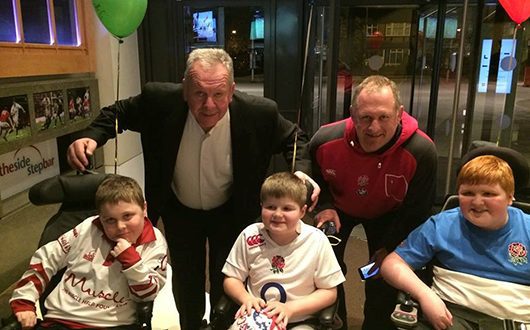 Pictured above (left to right): Joe Rush (12yrs), George Bellinger (11yrs) and Daniel Lyall (14yrs) meet former England captain and RFU Chairman Bill Beaumont CBE and Richard Hill MBE who played flanker for Saracens and England, playing a key role in helping to defeat Australia in the final of the 2003 Rugby World Cup.
There were several special moments that included Joe, George and Daniel following MHF's Chief Muscle Warrior powering their way through the crowds from the hotel next door, through the middle of the stationery brass band in the tunnel (about to make their grand entrance!) enroute to their seats in a packed Twickenham Stadium, the Home of England Rugby. This once-in-a-lifetime rugby experience saw England defeat France 55-35 in an absorbing match.
The three beneficiaries were treated like VIP guests throughout their stay at the hotel with the group that included mum's and dad's being presented with their own Muscle Warrior rugby-shirts made by Rhino TeamWear.
12yr-old Joe has Duchenne Muscular Dystrophy (DMD) & Aspergers; heard about opportunity via DFSG & Naomi House Hospice (Winchester). Note below from his mum (Annette) posted on Facebook:
"Joe just called "thank you so much mum, I've had the best time of my life!" "We can't thank you enough! Joe had such an amazing time! Made me cry!" "Thank you from the bottom of our hearts!"
Note below from his dad (Stewart) posted on Facebook:
"Just about recovered from our 'Muscle Dream' a weekend at Twickers watching England vs France. A truly wonderful event organised by The Muscle Help Foundation. Michael (CEO & Chief Muscle Warrior), I don't know how you do it but you have the knack (some say … you use the Force!) to get complete strangers to do whatever you want them to do. Steven Stoney Stone, you Sir, are a hero! Nothing was too much to ask, thank you! Joe phoned his mum on the way home, shattered but still full of excitement, told her 'I've had the best time of my life!' … I think he's probably right x"
After a group photo shoot outside in front of the striking 27ft rugby line-out bronze sculpture and a visit to The Rugby Store, a special Muscle Warriors evening dinner party was organised at the hotel with appearances and photos from the two Head Chefs who presented signed menus to the boys.
After a well-deserved lie-in and room-service breakfast on Saturday morning, the group headed to the hotel foyer to spot stars and then on outside to experience some of the match-day buzz with several fun Muscle Warrior salute photo opportunities culminating with a group shot in front of the famous golden 'Lion Gate' behind the West Stand.
An unexpected highlight moment saw George together with his mum Rebecca and Joe with his dad Stewart appear on the massive stadium screens for a few seconds towards the end of the national anthem – captured on film, you can their excited waves in the short clip below.
15yr-old Daniel has Duchenne Muscular Dystrophy (DMD): heard
about the opportunity via DFSG. Note below from his mum (Michelle)
posted on Facebook:
"What an amazing couple of days we have had! We have thoroughly enjoyed
our experience! Although I would prefer not to be able to access all these
wonderful things charities have to offer, I am truly grateful that they do.
Thank you Muscle Help Foundation for your very kind hospitality!
Sooooooooooo lucky to be a part of an amazing charity ~ thank you so very
much for all your hard work! Dan and I have taken away THE most amazing
memories xxxxx. Can't believe it was a week ago we were all together, getting
excited and looking forward to the game. Once again, thank you for an amazing
experience – it will never be forgotten. I hope our paths cross again soon."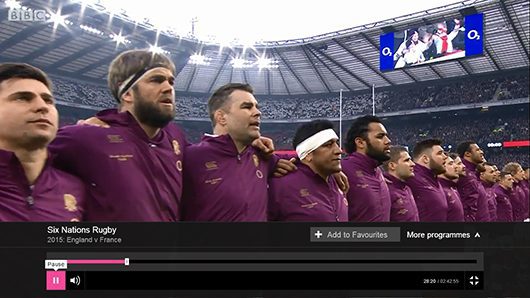 Michael McGrath, CEO of The Muscle Help Foundation commented "The Team at Marriott were incredible – I know what goes on behind the scenes especially on the big match-days which are unbelievably busy times with hospitality commitments including sponsor lunches and dinners everywhere! And yet, the staff who looked after Joe, George and Daniel and our group were utterly magnificent; nothing was too much trouble, not even a request over dinner for some chocolate sauce to accompany a portion of ice-cream – that's the Marriott Way!"
"The sport of rugby is underpinned by a number of core values that include passion, solidarity and respect. It was a real privilege to witness the passionate enthusiasm, excitement and sense of belonging shown by our Muscle Warriors; it was also wonderful to see that unifying spirit that leads to friendships and camaraderie amongst our group. And to observe the respect given and genuine inclusive approach by complete strangers who engaged with our beneficiaries was heartening – as the host nation for the Rugby World Cup and as someone who played school rugby not particularly well, its great to see the sports values are enduring and strong," added McGrath.
11yr-old George has Duchenne Muscular Dystrophy (DMD) and mild
learning & behavioural difficulties: heard about the opportunity via
Facebook, DFSG and emails.Note below from his mum (Rebecca)
posted on Facebook:
"Hi Michael, we still haven't come down from our fantastic experience – there
are still people to tell ! … the personal touch and kindness from yourself and
Steve made the weekend very special indeed."
Click HERE to read more about this 2015 Rugby Muscle Dream experience.
Contact:
Lydia Drukarz, Director
Wavelength Public Relations
M. 07977 454180
E. lydia@wavelengthpr.com
Twitter: @WavelengthPR