ABLE MAGAZINE FEATURED INTERVIEW WITH CHARITY CEO: 'MUSCLE MAN!'
Posted on

July 9th, 2015

Tom Jamison, Editor at Primas Media interviewed Michael McGrath, CEO of The Muscle Help Foundation for the June edition of Able Magazine.

"What I've learned over the years is that life is not a dress rehearsal."SOURCE: Michael McGrath

Able Magazine is the UK's most widely distributed general lifestyle magazine for disabled people.

Regarded as the foremost voice in the disability community, the UK's favourite disability lifestyle publication has been putting together specialist written editorial for almost 20 years. Their fearless slogan: 'What disabled people can do, not what they can't' encapsulates everything that Able Magazine is about.

With almost 20% of the British population having a disability, their distribution of 40,000 reaches disabled people, their carers and professionals in the satellite healthcare industries across the UK.

Click the ABLE logo below to read this 2-page .pdf feature

Follow @ablemag the latest news on Twitter.

Click HERE to like Able Magazine on Facebook.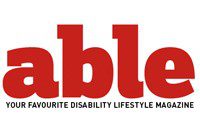 Contact:
Lydia Drukarz, Director
Wavelength Public Relations
M. 07977 454180
E. lydia@wavelengthpr.com
Follow Wavelength PR on Twitter
http://twitter.com/WavelengthPR