£4000 raised at MHF 10k Run & Family Fun Day
Posted on

June 4th, 2010
A special note of thanks from MHF's Chief Muscle Warrior
"Many congratulations to all who took part in The Muscle Help Foundation's inaugural Muscle Warrior 10k Run on Saturday 5th June 2010 – this was undoubtedly the hottest morning of the year in the South East region so far! It was fantastic to see a mixture of club runners and 10k first-timers all tackling the picturesque undulating course in the stunning grounds of Haileybury with equal vigour!
It was wonderful to see so many families enjoying the various activities, the demonstrations as part of the charity's Fun Day (in partnership with National Family Week and their Sports Day initiative), the large amounts of ice cream being consumed as well as the many smiling faces and colourful 2k Superhero Toddlers in fancy dress – my own favourite was Ironman whom I suspect lost a few pounds that day!
A special thank you to The Wells Sports Foundation and specifically Jodie Williams who attended the afternoon session in her capacity as an Ambassador. Jodie is the first girl to achieve a World Youth Championships 100 metres and 200 metres sprint double – she is no ordinary sixteen year old. Jodie has never been beaten in her age group. She is fast becoming one of Britain's most promising prospects! I was thrilled when she met our special VIP guest 12yr old Jordan who has the most severe form of muscular dystrophy and his family, Steve, Lyn and Ffallon. Jodie was a real superstar and absolutely brilliant with the children she met on the day. I must confess to feeling a little anxious as I watched Jodie and her father Richard tie up their ankles and then head off at great pace as one of the pairs in our Guinness World Record three-legged race!"
"Thankfully the Haileybury grass was soft, there were no falls that I saw, and both Jodie and Richard thankfully survived without incident! I believe father and daughter came a respectable 7th place, so now it appears that Jodie's 100% record of never been beaten is a thing of the past! A great deal of fun was had by all!"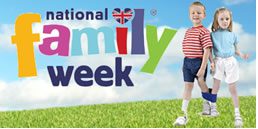 I'm also delighted to report that our Guinness World Record attempt attracted a quite magnificent forty-three (43) pairs. This information together with film footage, photographic evidence and completed consent forms is being scrutinized by National Family Week HQ prior to submission – initial signs indicate that the Guinness World Record (multiple UK venues) for the three-legged race has been successfully achieved! For our first event of this kind, just over £4,000 was raised (including offline donations and gift-aid) for the charity's Muscle Dreams™ programme. I'm pleased to say that donations are still coming in!
Finally, sincere thanks to the many local Hertfordshire companies who sponsored different parts of the event and of course a very special note of appreciation from all at The Muscle Help Foundation to Haileybury for opening up the stunning grounds of their magnificent school in support of our local charity"
Chief Muscle Warrior
Contact:
Lydia Drukarz, Director
Wavelength Public Relations
M. 07977 454180
E. lydia@wavelengthpr.com
Follow Wavelength PR on Twitter
http://twitter.com/WavelengthPR