2022 Barry O'Leary Services to Powerchair Football Award sponsored by Muscle Help Foundation charity
Posted on

July 1st, 2022

For the 2nd year in a row, the Muscle Help Foundation charity was very proud and delighted to sponsor the 2022 Barry O'Leary Services to Powerchair Football Award. Nominations are received through The Wheelchair Football Association and then considered by a select panel led by the Muscle Help Foundation.

After reviewing several incredibly worthy nominations in advance of the Awards Evening with Adam McEvoy, National Development Manager of The Wheelchair Football Association, our CEO Michael McGrath was left with the unenviable task of not only identifying one winner (Mark Kerrison, pictured below, holding shield – photo credit: Alexandra Johnson Photography) but also providing a specially recorded video message that included the Award winners name, announced by The WFA at their End of Season Awards Evening on Sat 25th June 2022 at Derby Football Club's Pride Park Stadium. This was just two weeks after the televised WFA Cup Final at St George's Park.
The event celebrated a fantastic year of Powerchair Football, including achievements from The WFA's National League Premiership & Championship divisions, together with our countries triumphant European Powerchair Football Association (EPFA) Home Nations Cup campaign and more.
The Muscle Help Foundation charity has over many years directly supported its very own Muscle Warriors Powerchair Football Club, part of the Aspire Hub. The Barry O'Leary Services to Powerchair Football Award, was created by The WFA to recognise individuals that have contributed substantial time, expertise and dedication to help develop and grow the sport of Powerchair Football. Read more about Barry O'Leary here who was the Muscle Warriors Powerchair Football Club Manager, point-man and an inspirational pillar for many years within the Powerchair Football community.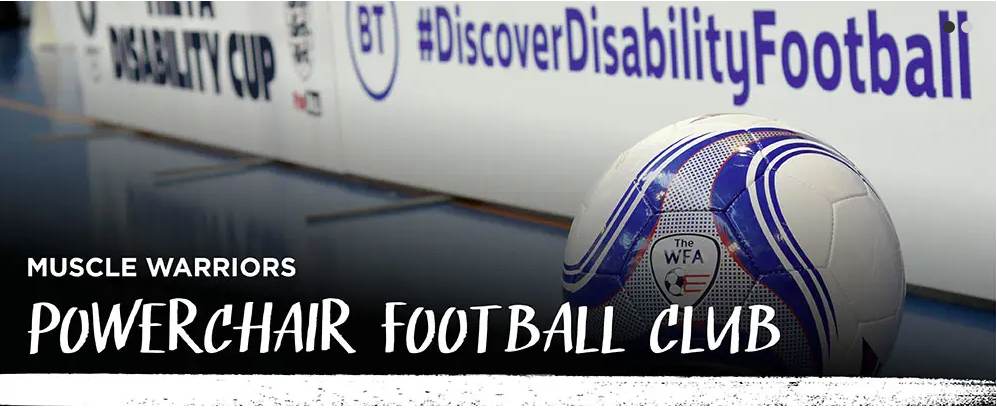 Michael McGrath, CEO of the Muscle Help Foundation charity was moved when he read all of this year's Award nominations. He said:
"Mark Kerrison was incredibly deserving of this prestigious award. I know that Barry O'Leary would most certainly approve. Thank you Mark for all that you do, for your selfless dedication to the sport of powerchair football and for your generosity of spirit in never ceasing to help others!"
The Muscle Help Foundation is so very proud to sponsor of this special Award and if we can, the charity will continue to look for ways to support one of the UK's fastest-growing, most popular disability sports."
Muscle Help Foundation (MHF) – a small charity delivering highly personalised, transformational interventions in the UK called Muscle Dreams for children and young adults (8-28yrs) with the muscle wasting condition, Muscular Dystrophy (MD). Uplifting, joyful and often cathartic in nature, MHF's academically validated work and impact is rooted in the idea that well executed, shared experiences can be powerfully transformative in nature.
The Wheelchair Football Association (The WFA) – believes that everyone can play a part in changing lives through the power of football. Powerchair Football is a unique sport that provides opportunities for people with a high level of impairment to access the game of football.  It is the only active team participation sport for people who use electric wheelchairs.
The sport is fast-paced, dynamic and very enjoyable to watch.  Due to the unique nature of the Powerchair Football, it allows all ages, disabilities and both genders to compete together. Powerchair Football enables disabled people to take part in regular activity and provides them with competition – something that the majority will never have, or rarely, experienced before due to their impairment. As a result, it builds key life skills such as teamwork and communication.
Powerchair football creates a great social opportunity for players and their families as they experience the highs and lows of participating in the nation's favourite sport. It brings strangers together, many of whom have similar stories and life experiences, creating friendships and bonds which last a lifetime.